Manchester United's Darren Fletcher says he is over his fitness issues
Manchester United's Darren Fletcher is confident his fitness issues are now behind him after returning to action.
Last Updated: 16/12/13 10:57pm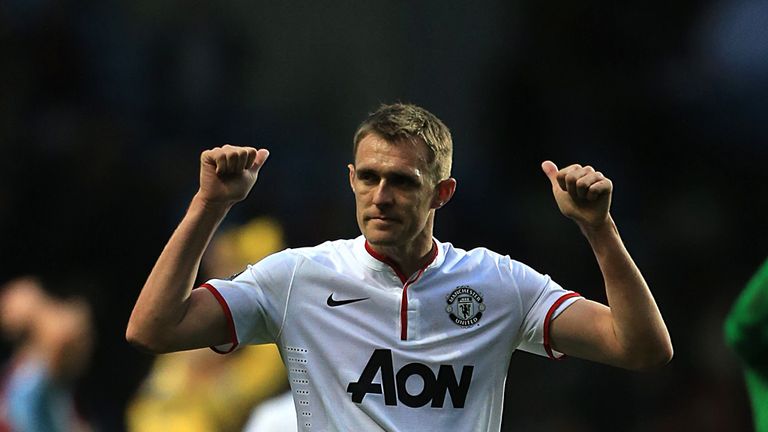 Fletcher made a welcome return to action as a substitute in Sunday's 3-0 win over Aston Villa after making his last appearance on Boxing Day last year.
The Scotland international was restricted to just 13 appearances last season as he battled with a chronic bowel condition which has plagued him for the last two years.
Fletcher, who was forced to take an extended break from playing after being diagnosed with the bowel condition in November 2011, now believes he is fully over his fitness problems and is determined to kick-start his career again.
"This is it, I'm back for good," Fletcher told MUTV. "This is hopefully the game which means I'm back now.
"I seem to have come through the setbacks and health issues and I'm thankful for that. It's onwards and upwards now.
"I always believed I would come back, I kept that mindset. I think other people around me were trying to make me think otherwise, but I stayed strong and believed I would get back."
Fletcher added: "Ever since I was a kid, I've wanted to play football. I've been fortunate enough to have the opportunity to play for Manchester United and wasn't going to give that up lightly.
"I battled through it, and I'm only 29 years old, I think I've got plenty more years of playing left in me.
"I could have a career all over again if I get my health right, and hopefully that's what I'm going to do.
"I'm still building up my fitness, but I don't want to take it easy. I've done enough of that, and I want to be involved, to get us back to where I know we should be."
No guarantees
But Fletcher has revealed that when he went for the last of his three operations he did not even know whether he would be able to live normally again, let alone play football.
"I couldn't leave the house," he said. "Simple stuff, like taking my kids to the park, going for a meal with my wife. The nature of the illness meant I just couldn't do it.
"There was the exhaustion side as well. I always believed one of the medications would work. Unfortunately that wasn't the case.
"Ultimately that was the reason I went for the operation."
Although Fletcher's surgeon was confident surgery would prove successful, the consequences of failure were laid bare.
For a 29-year-old sportsman, supposedly in the prime of a career that had already brought him four Premier League titles, an FA Cup and a couple of League Cups, it was a bleak prospect.
"There was a day in May when we said 'this is it'. Once I came out of that operation I would know whether it had worked or not," he said.
"There were no guarantees. If the operation was not a success there was no way I would be able to play football and my everyday life would have been very difficult.
"It was very emotional. There was a lot of fear and anxiety. I put all my trust in the surgeon.
"I know people will say I should think about other things - and I was thinking about my children, my wife and family - but right there, right beside it was football.
"I didn't want to give it up. I worked hard to be a professional footballer. I always have. I always kept that determination.
"I was doing this operation, not just to have a quality of life but also to get back playing football."