Premier League: West Ham's James Collins criticises Adnan Januzaj for diving
West Ham defender James Collins has criticised Manchester United's Adnan Januzaj for diving during Saturday's game.
Last Updated: 23/12/13 8:11pm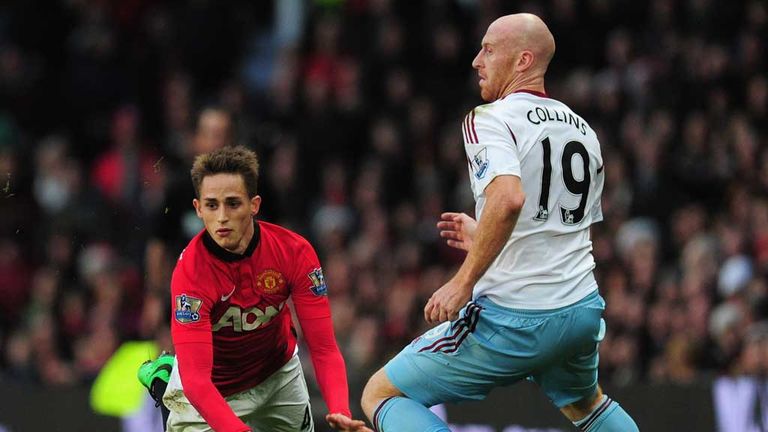 Januzaj was booked for simulation during West Ham's 3-1 defeat but Collins has said the 18-year-old will learn from his mistakes.
"It's cheating basically," Collins told Weekend Warm-Up on Sky Sports News.
"I don't like to see it in the game. He probably thinks I am going to stick my leg out and he's probably already thinking about going over.
"Obviously he's taken a dive. He's a young lad, a great player, I'm sure he will learn. David Moyes seems to have this conversation quite a lot at his club with Ashley Young. It happens in football. He (Januzaj) is a great player and played very well at the weekend. He's learning the game and if he carries on playing the way he is, he is going to be a top-drawer player."
Manchester United manager David Moyes revealed he would speak to Januzaj after the teenager's latest eye-catching performance.
"I saw it, but I believe he thought he was going to be chopped down." said Moyes. "He's been getting kicked upside down for weeks but we'll be making sure (diving) doesn't creep into his play."
West Ham are 17th in the Premier League and club captain Kevin Nolan cancelled the players' Christmas party because of a poor run of form.
"We don't deserve one really," said Collins. "If we are doing well, it's nice to go out as a team and celebrate. But we haven't been performing. The captain decided it wasn't appropriate for us to be out partying. I think it was the right idea."
West Ham are into the semi-finals of the Capital One Cup but have only won one of their last ten Premier League games.
"The confidence has obviously taken a hit after doing so well last year," said Collins.
"We knew it would be a tough season. We're not scoring as many goals as we would like to. We have eight clean sheets but we are just not scoring enough. Everyone needs to be chipping in and that's a major factor as to why we are down near the bottom of the league."
Collins has said Sam Allardyce's experience will prove invaluable as West Ham prepare to face Arsenal and West Bromwich Albion at Upton Park over the festive period.
"He's been in the game a long time. He has a terrific record in these situations with previous clubs. He knows what he is doing and tactically he is spot on and his preparations are spot on.
"We would obviously like to be on more points going into the Christmas period with some tough games. We have played quite well in games where we have deserved to get points."
West Ham striker Andy Carroll will continue his rehabilitation after a repeated foot injury has ruled him out of the season so far.
"He's been great," said Collins. "He's had a tough time. He's been out longer than we all anticipated. He's been working ever so hard. You can see it every day, he's in the gym. It looks like he has turned the corner and he will be back soon."