Manchester United striker Wayne Rooney struggling with groin problem, says David Moyes
Manchester United manager David Moyes admits Wayne Rooney is struggling with a groin problem.
Last Updated: 02/01/14 3:08pm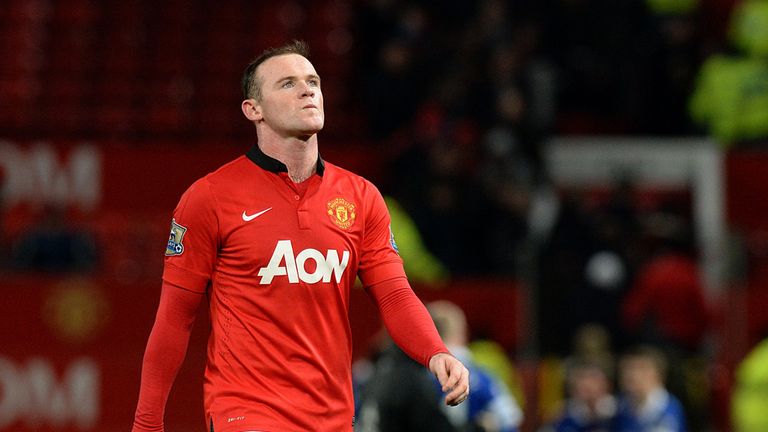 Moyes admits the striker's injury will have to be managed carefully over the coming weeks, especially as the club's other main forward, Robin van Persie, has not yet recovered from a thigh strain.
Rooney played against Hull City and Tottenham in the busy Christmas and New Year schedule, but was rested for the trip to Norwich City.
Moyes, when asked if resting Rooney was an option, replied: "If I could, I would.
"He has missed a couple of games with his groin and may well miss some more in the games coming up."
Following their latest defeat at home to Tottenham on New Year's Day, reigning champions United are currently in seventh place in the Premier League table, 11 points adrift of Arsenal.
Defender Jonny Evans believes they need to be more patient at Old Trafford if they are to stop conceding the kind of goals that saw them lose to Spurs.
"They caught us on the break a little bit for the two goals so maybe we need to be a bit more patient.
"Away from home, you tend to be more defensive in your set-up; maybe at home we are leaving ourselves a bit too open.
"We want to entertain our fans and score goals but maybe that is to our detriment a little bit."
The poor home form brings added focus to United's work in the January transfer window. Moyes has repeatedly stated it is difficult to do any meaningful business in the middle of the season, but others feel the club are likely to be active.
"From all the noises coming out of the camp, I wouldn't be surprised to see a bit of activity," club ambassador Andy Cole told United Review.
"Our club, historically, doesn't do too much in January but we have a new manager with new ideas.
"I just wonder who will want to sell their better players halfway through a season. There are also inflated prices to consider as well.
"You get chairmen bumping prices up because they know their players are in demand and other clubs will pay what they have to pay for what they need.
"Those chairmen are in very powerful positions, especially if the players concerned are tied down to long-term contracts."