Darren Fletcher insists there is no unrest at Manchester United
Manchester United midfielder Darren Fletcher has dismissed talk of a dressing room mutiny at Old Trafford.
Last Updated: 11/01/14 11:06am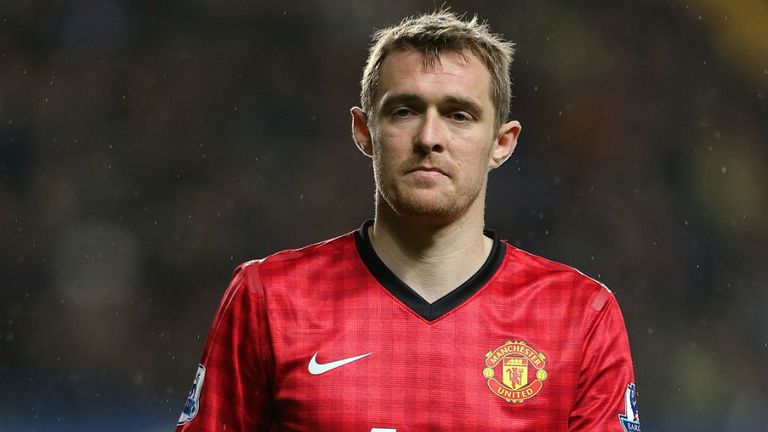 There have been reports of disenchantment among a number of senior players with David Moyes' methods in the wake of United's disappointing run of form.
United have lost their last three games and currently find themselves 11 points behind Premier League leaders Arsenal as pressure grows on Moyes just six months after he replaced Sir Alex Ferguson.
However, Fletcher has rejected suggestions of unrest at Old Trafford and says that it will take time to adapt to the new ideas of Moyes, calling on the fans to give the former Everton manager time to get things right.
"I've not seen that at all, to be perfectly honest," said Fletcher of dressing room unrest. "I've seen a group of players who are trying to take on board new ideas and trying to support the new manager.
"Yes it's a little bit different, it always is when a new manager comes in - they are always different and bring their own style.
"You can see the manager's ideas and it's up to us players to start applying them on the pitch.
"When you've been used to something so long and something comes in to change it, it does take time - it's not going to happen overnight.This is a time for character more than anything to do with tactics or style. At times like this it is down to character.
"I'm a great believer that, yes, tactics, formations and certain players can make big differences but I think players' attitudes, determination and character can count for more than that at times like this.
"We feel we have that character but it's easy talking about it. We have to go out there and do it. The players are determined to do it, I know that for a fact. I've seen it in the dressing room. I see how much they are hurting.
"I see the hurt in the dressing room, I see players determined to do well, training extra hard and trying to put things right. I don't think it's a lack of effort.
"But we need a little bit more. That's the thing we've always got to reiterate to them. We are doing everything we can but can we dig and produce that little bit more like we have done over the years.
"We've had spells where we haven't played well, we haven't won games in the past and we've always come through it. So we have to look back to that.
"I've been in situations where we've not won the league and we've been a bit off it towards the end of the season. But we always came good, we always believed in ourselves as a team as a squad and got on with whatever plans the manager had for us."
United take on Swansea on Saturday just a week after the Welsh side dumped them out of the FA Cup and Fletcher admits the clash is a must-win game for the reigning champions.
"It is a must-win game without a shadow of a doubt," added Fletcher. "It is a very unusual situation to have lost three games on the run.
"We have to get back to winning ways and although we feel things aren't going our way we have to turn it round ourselves. We are good enough players, we are a good enough team, we are at home and we can overcome anything."