Ballon d'Or winner Cristiano Ronaldo considered Manchester United summer return
World player of the year Cristiano Ronaldo admitted he considered returning to Manchester United in the summer.
Last Updated: 14/01/14 8:55am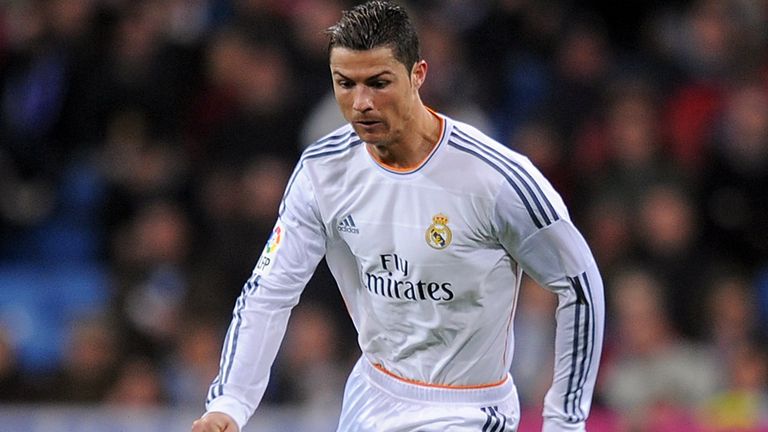 Ronaldo won the 2013 Ballon d'Or in Zurich on Monday night, the second time he was named best player on the planet after claiming the award back in 2008 as a United player.
The 28-year-old left Old Trafford for Real Madrid the following year in a world-record £80m deal but revealed Rio Ferdinand had called him in the off-season to try and convince him to return to Manchester and the Premier League.
"It was true that Rio Ferdinand spoke to me a lot to try and make me come back to United," he said afterwards.
"Rio is a great friend of mine, we played many years together at Manchester United and we were neighbours when I was there.
"He's a fantastic guy and tried to change my mind to go back to Manchester.
"I did think about United, they are still in my heart. It's a club where I played for six years, I love the club.
"I have a lot friends there and I wish them the best."
The Portugal captain, who did not win any silverware with Real last year, secured 1,365 points in the Ballon d'Or voting, with Barcelona's Lionel Messi having to settle for second place with 1,205 and Bayern Munich winger Franck Ribery third on 1,127.
The Real Madrid forward scored a staggering 69 goals in 59 matches during 2013 and helped Portugal secure their place in next year's World Cup finals by scoring all four goals in their 4-2 aggregate play-off victory over Sweden.
After picking up the award, an emotional Ronaldo, who was previously honoured in 2008, said: "I have no words to describe this moment. Thanks to all of my team-mates at Real Madrid and the national team.
"Without all of their efforts this would not have been possible. I am very happy, it is very difficult to win this award.
"Everybody that has been involved with me on a personal level I have to thank. My partner, my friends, my son. It is a tremendously emotional moment."
On his rivalry with Messi, the 28-year-old added: "I have a very professional relationship with Messi, he's a player I admire.
"I'm happy to compete with the best. I'm going to try win things with Madrid and the national team, and I hope to be here again next year and win."
Messi, the only player to win the award on four consecutive occasions, said: "I want to congratulate Cristiano because he was the winner and deservedly so.
"I think it was a good year for the three of us and that's why we were there. I have nothing to complain about or make any excuses."
Meanwhile, Sky Sports' Spanish expert Guillem Balague says changing image perceptions may have helped Ronaldo to win the Ballon d'Or for the second time ahead of Messi.
Balague said: "Runner-up to the little Argentinian for three out of the last four years, Ronaldo's greatness as a superstar player has never been in question. But in these days of high profile image requirements that go beyond just the game, CR7 always seemed to find himself unfairly cast as the villain to the hero that has been the squeaky clean Messi.
"Now the balance of the public's perceptions looks to be changing. It feels like the world has gone a bit tired of the same face at the top of the chain.
"Franck Ribery said on Sunday that no matter who won, Messi should be considered the best player in the world and not many will argue with that, but it feels like everything has been allowed to tarnish the image of Messi in the last few months.
"The media picture of villain and heroes is finally disappearing - they should both be considered heroes.
"What is certain however is that Ronaldo seems to have been working on the building of a more user-friendly, less arrogant image than that of the pouting, strutting diva he has been perceived as by so many."
Ronaldo, Messi and Ribery were also included in the FIFPRO team of the year, which was dominated by Real, Barcelona and Bayern, and also featured two players from Paris St Germain.
There were five British players in the running for selection, but no-one made the final XI.
Liverpool captain Steven Gerrard, Manchester United striker Wayne Rooney, Chelsea defender Ashley Cole, Everton left-back Leighton Baines and Gareth Bale, who is now at Real Madrid, had all been nominated.
FIFPRO team of the Year: Manuel Neuer (B Munich); Phillip Lahm (B Munich), Sergio Ramos (Real Madrid), Thiago Silva (PSG), Dani Alves (Barcelona); Andres Iniesta (Barcelona), Xavi (Barcelona), Franck Ribery (Bayern Munich); Cristiano Ronaldo (Real Madrid), Zlatan Ibrahimovic (PSG), Lionel Messi (Barcelona)