Manchester United striker Robin van Persie backs manager David Moyes
Robin van Persie believes David Moyes will get things right at Manchester United provided he is given time to succeed
Last Updated: 17/01/14 8:07am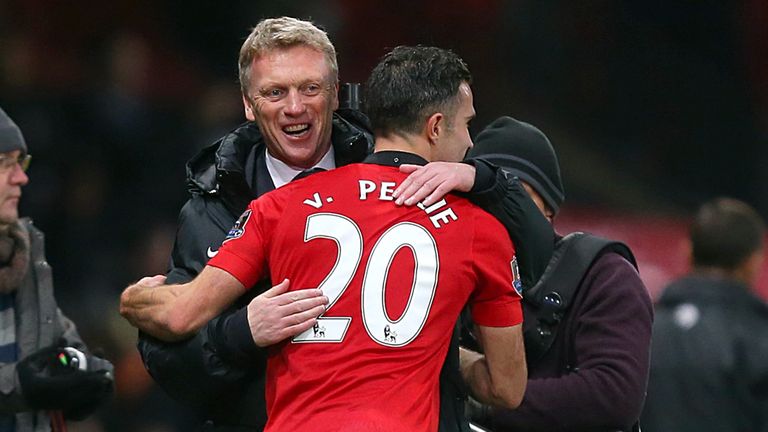 Already out the FA Cup and languishing in seventh position in the Premier League, United face an uphill task to finish in the top four and qualify for next season's UEFA Champions League.
But Van Persie is convinced that Moyes will be a long-term success at United if he is given the time to succeed.
"I think he needs time like everyone, especially if you are new at such a big club," Van Persie told The Guardian.
"And to be fair, I don't think people don't understand that they have to give him a little bit more time, and I am talking about fans or even us. He will get that time and everyone is convinced that we will change things sooner than later."
"We lost many points this season, too many in our opinion, because if you want to go for all the trophies, you have to play better and get more wins in - but we are doing everything we can to change that.
"The manager is our leading man in that case and he is trying his best and I think he will turn things around."
Partnership
In a separate interview with uefa.com, van Persie said he is convinced his partnership with Wayne Rooney will continue to blossom once his injury problems are behind him.
"We realise that we are stronger when we are playing together, as a partnership," he said.
"With a player of Wayne's calibre, we can go from strength to strength, and we can become even better.
"One game he will score a couple, the next game I will score a couple. It is important that this partnership is becoming even stronger.
"In a way we are both 'nine-and-a-halves', because we can play high up front and we can drop. That is an extra quality we have, which is quite rare.
"If you look around you have loads of main strikers, target men, foxes-in-the-boxes, and you have number 10s who are dropping in more.
"With us it's not obvious because we can both do that job. Wayne is doing a bit more, because he is playing behind me, but we can both do it."
Sky Sports brings you closer to the sport you love in 2014 with live sporting coverage from the Barclays Premier League, UEFA Champions League, Formula 1, Super League, The Masters, Ryder Cup and much more. Click here to find out more about how you can upgrade to Sky Sports.