Robin van Persie and Wayne Rooney miss Manchester United's trip to Chelsea
Manchester United will again be without Wayne Rooney and Robin van Persie when they go to Chelsea on Sunday.
Last Updated: 19/01/14 3:13pm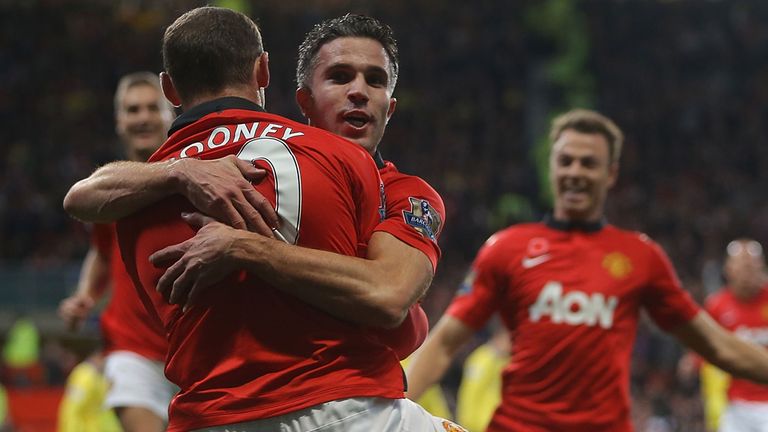 Rooney is back in England following warm-weather training, but his groin injury has not healed in time for the weekend.
And van Persie, who has played just twice since November 10, will not return to training until next week - by which time United could be 14 points off top spot in the Premier League.
Speaking at his press conference ahead of Sunday's trip to London, Moyes said: "Wayne's come back fresh but not ready for Chelsea.
"He's doing some running and looking good. He's had a break, done some strengthening work on his groin. Hopefully he'll benefit, but not for this game."
Asked whether Rooney would be back for the second leg of United's Capital One Cup semi-final against Sunderland on Wednesday, Moyes was non-committal.
He said: "Possibly. I don't want to say he'll be fit for whatever game and then find he isn't. We've just got to take it bit by bit, but he looks well. Overall we're pleased and hope to get him back as quickly as we can."
A thigh injury has been the concern for van Persie, who made a point of publicly supporting his manager this week in the wake of three January defeats.
Moyes said: "I'm hoping Robin's got a good chance of training at the start of next week. If i could get him back on the grass it would be a great boost for us - he's a really important player and one we've missed.
"Both of them are getting closer to fitness, so let's hope it's not too long until we get him back."
Moyes also hit out at rumours that suggested Van Persie is not happy at Old Trafford.
"I keep saying it is untrue but for some reason people don't want to write it or hear it," he said.
"But it is the fact. Most people know that I talk pretty straight.
"If there was something wrong I would be the first one to come out and say it.
"I have a really good relationship with Robin, as I do with all the players.
"But when you are not winning, people look for reasons, and probably think I am not getting on with Robin.
"It couldn't be further from the truth."
United go into the weekend nine points behind Sunday's opponents Chelsea and 11 off leaders Arsenal.
Watch Manchester United take on Chelsea live on Sky Sports 1 as part of our Super Sunday bill. Kick-off is at 4pm.