Premier League: Juan Mata debut offers boost to Manchester United ahead of Cardiff clash
Juan Mata makes his Manchester United debut tonight and the club's fans will hope it marks an improvement in fortunes.
Last Updated: 28/01/14 9:47am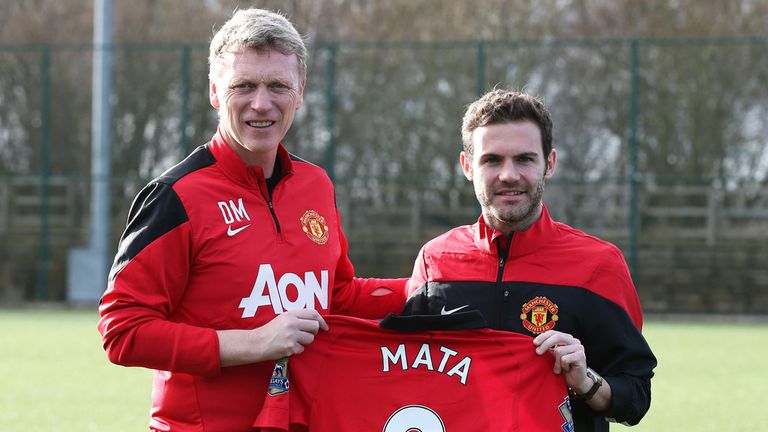 United were pipped to a place in the Capital One Cup final and a showdown with rivals Manchester City as a result of their pitiful penalty shootout performance against Sunderland.
Add to that a third round exit at home to Swansea in the FA Cup and there has not been much to cheer for the United faithful.
But Mata's arrival from Chelsea for £37.1m has offered a boost to both them and manager David Moyes and the player himself is convinced they can turn their season around.
"If another club was in this position it would be very difficult for them to come back and take first in the league," said Mata.
"This club can do it. This club is used to fighting to the end.
"This is the real image I have of Manchester United; always trying to win every title and always coming back from difficult moments."
Mata admits he will be thrilled to pull on his new number eight shirt and added: "Coming here is a great moment for me. I feel very happy to be here and have the chance to play for a massive club.
"The last six months at Chelsea were a bit difficult for me but now I am really happy and looking forward to winning as many trophies as I can with this club. I am sure it is going to be a great period for me.
"Manchester United is a massive club, with fans all around the world and this will be a big challenge.
"But I like the pressure, I think it's good for a footballer to try to improve. People are expecting big things from me and I am looking forward to it.
"What I like the most about this club is the character. I think if another club were in this position in the league (seventh), I think it would be very difficult to come back and take first position, but this club can do it.
"I think this is a club which is going to be successful and I am happy to play anywhere. I will try my best to improve as a player, to grow."
Wayne Rooney and Robin van Persie could return for the encounter with Cardiff after training on Monday.
Rooney has been missing with a groin strain since the New Year's Day defeat by Tottenham, whilst Van Persie suffered a thigh problem in the UEFA Champions League win over Shakhtar Donetsk last month.
However, both are in contention to face Ole Gunnar Solskjaer's men.
"They have all trained today," said United boss David Moyes, who could also have midfielder Marouane Fellaini back after wrist surgery.
But Moyes side-stepped questions over the future of Rooney, whose contract expires in 2015 but has been linked with a massive extension, that could net him £300,000 a week.
"It is one I have left with (executive vice-chairman) Ed Woodward and Wayne and his advisors," said Moyes.
Follow all the action from tonight's football on Gillette Soccer Special, Sky Sports News at 7.30. You can also keep up with the action with our live football blog - online and on mobile.