Manchester United boss David Moyes hints at squad overhaul after Juan Mata deal
David Moyes has indicated that there will be an overhaul of the Manchester United squad in the summer.
Last Updated: 28/01/14 1:49pm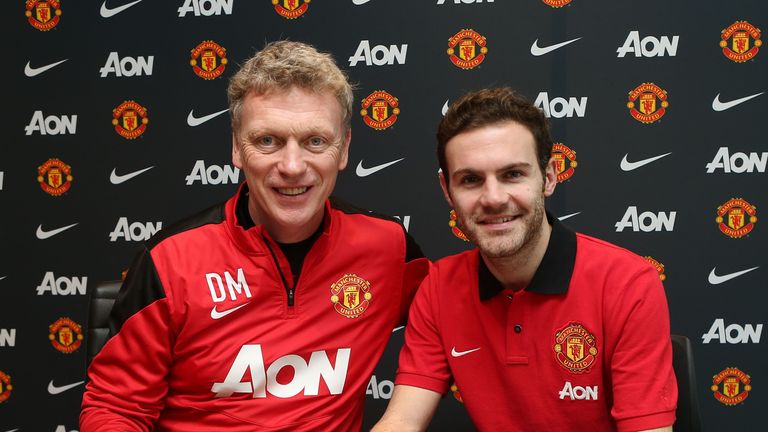 Moyes has sanctioned loan exits for Anderson and Wilfried Zaha while Fabio is on the verge of completing a permanent move to Cardiff City.
Rio Ferdinand and Patrice Evra are among a host of other players to have been linked with a summer departure, and Moyes has admitted there is a need to act after a poor season so far.
"I am not going to accept it," said Moyes when asked about his plans. "I am disappointed we are not in a much stronger position. I am disappointed with how we have played.
"I, ultimately, take the rap for that. But what I will do is make it right. I am going to get better players in. Unfortunately I don't think there will be more in January. But it will change.
"I have given every player the opportunity to play and show what they can do. We have had a pretty good chance to have a look at it.
"The players have to perform. If they want to be here and making sure they have a jersey, they have to show it in the games. Undoubtedly this club wants to be at the top. We want to be challenging. At this moment in time we have failed to do that. We want to do something about it."
Mata sealed his move from Chelsea over the weekend and Moyes has made it clear that his signing is just the start of the rebuilding process.
He said: "The message this sends, as I said in the summer, is that we're going for all the best players in the world. Juan is one of those players. He's a top Spanish player, a top Premier League player and I think if you asked any supporter, no matter what club they support, they would be an admirer.
"There will be more players like Juan in the future, no doubt about that. He plays for Spain, he's played in big games already for club and country. I do see him fitting in and, hopefully, it doesn't take him much time.
"But I also still think coming to Manchester United is a big change, for any player or any manager. It's a big thing and he can't solve everything.
"I've got a big job to do here and a couple of new signings isn't all that is needed. I think there's a bigger job to be done but you have to start somewhere.
"If you asked me what I needed most, I would have said a central midfielder. I could do with a left-back, too, but sometimes you don't always get the pieces of the jigsaw at the time.
"It's all part of a rebuilding process."
Mata is set to make his debut against Cardiff City on Tuesday night and is hoping to inspire United to a successful second half of the season.
"If another club was in this position it would be very difficult for them to come back and take first in the league," said Mata.
"This club can do it. This club is used to fighting to the end.
"This is the real image I have of Manchester United; always trying to win every title and always coming back from difficult moments."
Wayne Rooney and Robin van Persie could return for the encounter with Cardiff after training on Monday.
Rooney has been missing with a groin strain since the New Year's Day defeat by Tottenham, whilst Van Persie suffered a thigh problem in the UEFA Champions League win over Shakhtar Donetsk last month.
However, both are in contention to face Ole Gunnar Solskjaer's men.