Premier League: David Moyes says Fulham draw a new low in his first season at Manchester United
David Moyes admitted Manchester United's 2-2 draw with Fulham marked a new low for his first season in charge.
Last Updated: 10/02/14 10:42am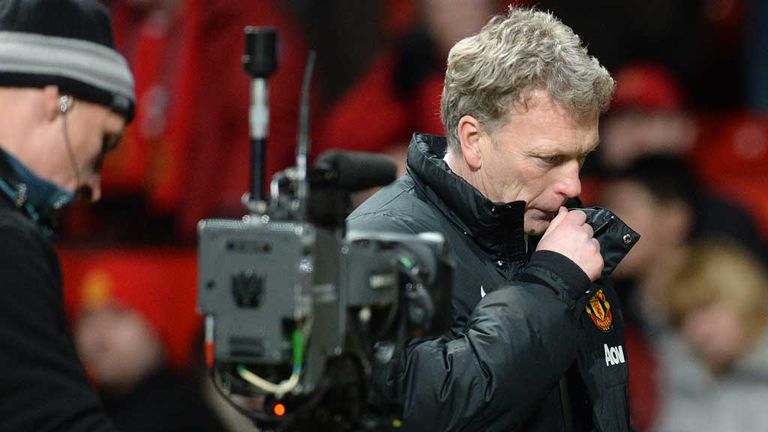 United trailed for much of Sunday's Premier League game at Old Trafford before two quick goals in the closing 10 minutes sent them on the way towards what looked like victory, but Darren Bent pounced deep into injury-time to earn the struggling Cottagers a 2-2 draw.
The result dealt United another blow in their bid to qualify for the Champions League next season, leaving them nine points adrift of fourth-placed Liverpool.
Asked if he could have predicted United's struggles, Moyes said: "Probably not. It's been a bit like that this season, but today was as bad as it gets.
"You could say that it was maybe mental softness that we didn't see the job out. I would agree with that."
But Moyes saw plenty of positives in his side's performance, with United dominating possession and chances to the point where going scoreless for the first 78 minutes almost beggared belief.
"We dominated the game," added the United boss. "Being one down was bad enough. The amount of attempts, chances and play we had was unbelievable. How we didn't win, I have no idea.
"You can have as much possession as you like. We should have scored more. You've got to try to keep making it work. The players tried that and eventually the goals did come.
"Even when it was 2-1 and they put up five minutes of added time, Fulham never came up the pitch, they left us with the ball, so it was nearly a case of just playing out time, but we gave away a diabolical second goal.
"The players are hurting, I can see every day they are hurting because the results aren't going the way they want.
"But we have a good team and there will be very few teams desperate to play us, that's for sure."
United are now nine points adrift of the top four and in danger of missing out on a place in the UEFA Champions League.
Asked if the Red Devils can still break into that elite group, Moyes said: "We'll do our best."
United flung a record 81 crosses into the Fulham box, but with 6ft 7in centre-back Dan Burn in the away side, visiting head coach Rene Meulensteen said his team were well prepared for everything the hosts threw at them.
"When I saw Manchester United, I thought the game-plan was quite straight forward - get it wide, get it in," said Meulensteen, who walked away from Old Trafford last summer following a long spell among Ferguson's backroom staff.
"If you're well organised and the goalkeeper is in good positions to come and collect the ball, it can be easy [to defend against].
"You need a little bit of creativity and a bit of variety at times to open [teams] up. It was partly straight forward.
"We know that we had to be more compact and tight in wide areas because United would cross the ball a lot."
Jamie Carragher says that the amazing stats from the game only tell half the story.
"I don't think you can look at those stats and say how well Manchester United played," explained Carragher on Sky Sports.
"I think the way Fulham played, you were always going to batter them on the stats. Fulham looked more comfortable out of possession. When they had the ball, they did not really know what they wanted to do - I have never see a team defend so deep in my life.
"United may have had more crosses than we have ever had - but it was not the quality of crosses you would expect from Manchester United."
Former assistant manager Mike Phelan agrees and says that the quality from United just was not there.
"To say that was disappointing would be an understatement, it is more devastating than anything else," added Phelan.
"We saw what Fulham did to Manchester United is what Manchester United usually do to other teams - they win the game when they have to.
"It was an unbelievable game from a tactic point of view. You see Fulham defending, defending and defending - their game plan was really working. And then it wasn't working and then it was back on track again.
"All credit to Fulham, whose game plan came through in the end, but massive disappointment for Manchester United who really should be winning football matches with all those attempts on goal. The quality was just not there.
"Stats can give you a false impression and can hurt United more, they dominated in possession but did not win the game. You can harp on and harp on about possession but in reality that is not always what the game is about; it's about winning the game and creating chances to score goals."