Premier League: Michael Carrick claims Manchester United's players care about their current plight
Michael Carrick claims Manchester United's players care about their current plight - but are still full of belief.
Last Updated: 11/02/14 11:43am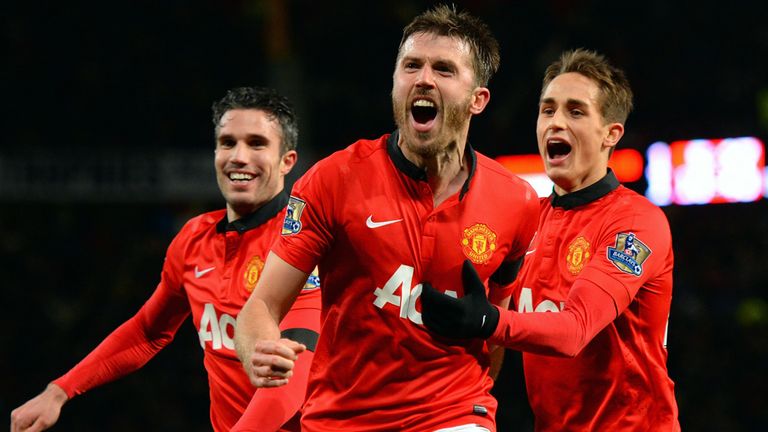 Instead of three precious points and a platform from which to mount a concerted charge towards a top-four place, Carrick's goal merely ended up being the prelude to more misery as Darren Bent's injury-time equaliser secured a 2-2 draw for Fulham.
After all that has gone before, dropping two points at home to a team adrift at the bottom of the table, coached by the man who was part of Sir Alex Ferguson's backroom team for six years, looks set to cause more worry for United fans.
At the very least, the £20million they would expect to pocket from the Champions League looks like being lost, given United are now nine points behind fourth-placed Liverpool.
Players' futures - that go far beyond skipper Nemanja Vidic, who has already announced his intention to quit in the summer - are on the line, whilst Moyes himself is suddenly under extreme scrutiny as the chronic form continues.
The sight of Carrick being swamped by ecstatic team-mates following his 80th-minute goal, and Wayne Rooney on his knees in triumph emphasised the depth of feeling amongst the United squad though.
"Of course the players care," said Carrick. "It is the pride we have in ourselves and each other.
"No-one wants to go through a spell when people are questioning you and things are going wrong.
"We have had enough success over the years that we retain a belief in ourselves even when things are not going so well.
"We keep trying to do the right things, and in the end, you think it will pay off for you. We thought it had but it wasn't to be.
"It isn't for the want of trying. It is not a case of not caring. We care just as much, if not more, than anybody else."
Carrick added: "We thought it was going to turn. We have thought that all season. We still believe it will but it seems like setback after setback at the moment.
"We have had success over the years. You have to deal with the down times as well.
"It has been a tough season and we are not in a very good position in the league.
"We will pick ourselves up. That is what we do. That is the business we are in."