Manchester United post increased profits amid concern over on-field performances
Manchester United vice-chairman Ed Woodward admits this season's performances have fallen short of expectations.
Last Updated: 12/02/14 3:34pm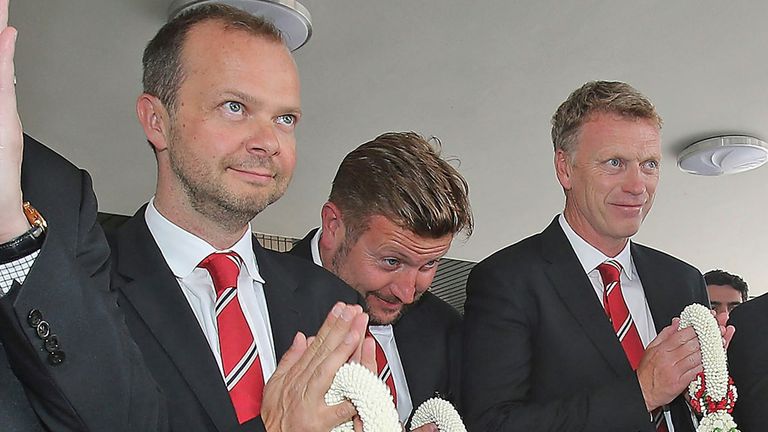 United announced record revenue of £122.9m for the three months to December 31, 2013, while commercial revenues at Old Trafford rose 18.8 per cent in the quarter to £42.3m.
The club's income was further boosted by the announcement of six new sponsorship deals and an 18.7 per cent increase in broadcasting revenues to £46.9m during the same period.
However, with the current champions lying seventh in the Premier League - and nine points adrift of the fourth UEFA Champions League spot - Woodward concedes David Moyes' first season in charge has not gone to plan and has hinted at a 'busier than usual' transfer market this summer.
"We once again achieved a record revenue quarter with strong contributions from our commercial and broadcasting businesses despite the current league position, which everyone from the team manager down has acknowledged is disappointing," he said.
"We continue to see meaningful opportunities to grow our commercial business and the popularity of football on TV is leading to continued broadcasting revenue growth, all of which bodes well for the long-term stability and financial strength of our business.
"We are also very pleased to have added a world class player in Juan Mata to our squad, who has already made a positive impact."
On plans for allowing Moyes to continue his team rebuilding during the next transfer window, Woodward said: "I think it's fair to say that we are focused on strengthening the squad.
"We are looking at some players to sell this summer. We are not necessarily looking to churn a huge number of players but we are not afraid of moving in the market in a way that we perhaps have not seen in recent years.
"Historically we have had around three sales and purchases each year and it's possible that there may be more than that. The market itself can throw up opportunities as we go through the window."
Fan base
Despite his admission over United's form this term, Woodward said there was currently "no impact on the wider business from current on-pitch performance".
And whilst going an extended amount of time without competing at the highest level was not a thought he was considering, Woodward feels it would take some considerable time before United as a club saw a reduction in their huge worldwide following.
"It has taken a long time to build our huge fan base," said Woodward. "That will not go away for a long time.
"Some of our competitors have not won league for a long time and they still sell a lot of shirts - one of them is just down the road."
Staff costs were £51.6million, an increase of 16.7 per cent, primarily due to the impact of player acquisitions and renegotiated player contracts.
As Mata's arrival did not fall within the accounting period, the main signings over the 12 months concerned were Marouane Fellaini, who joined from Everton on deadline day for £27.5million, and Wilfried Zaha, the winger who was signed from Crystal Palace, immediately loaned back to the Eagles and has just joined Cardiff after failing to impress Moyes.
The gross debt has been reduced by 2.7 per cent to £356.6m, although United do have an additional £72million in the bank which fans will expect to be invested in Moyes' squad given this season's performances.
As expected, there was no mention within the results of ongoing discussions over a new kit manufacturing deal.
The current contract with Nike expires at the end of next season and there has been speculation Adidas, Puma and Warrior are all considering a massive offer in order to get their names on one of the most recognisable shirts on the planet.
In addition, whilst United still anticipate overall revenue for the year to reach between £420million and £430million, there is no mention of any contingency next year should the club fail to qualify for the Champions League.