World Cup: Wayne Rooney backed to impress by England boss Roy Hodgson
Wayne Rooney has the opportunity to prove he is one of the world's best players this summer, according to Roy Hodgson.
Last Updated: 16/02/14 12:27pm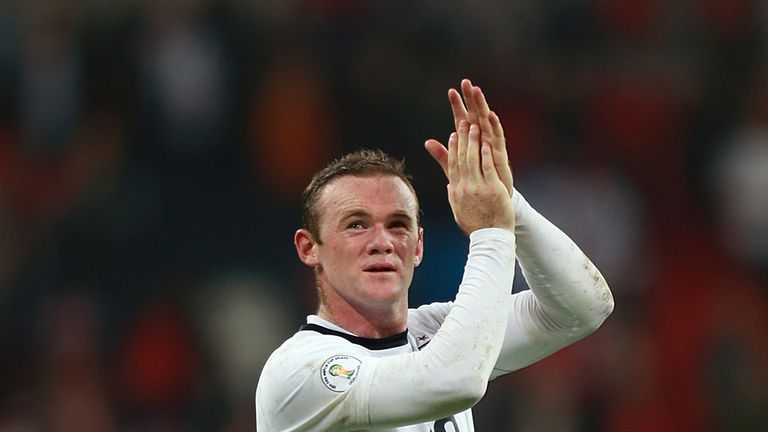 Since the last international fixtures for England in November, Raheem Sterling, Adam Johnson, Luke Shaw and Ross Barkley have all improved their chances of making a late surge into Hodgson's squad.
Andy Carroll has returned from injury, but Theo Walcott's dreams for Brazil 2014 were dashed when he ruptured his anterior cruciate ligament in the north London derby.
But one constant with the national side is that Manchester United striker Rooney is a pivotal figure.
"Wayne has taken on responsibility with Manchester United and he always takes responsibility with the national team and I think this has been a great year for him," Hodgson said.
"At the moment circumstances seem to be contriving towards England having a Wayne Rooney in top condition physically and mentally, and in terms of his ability - we all know how good that is."
Although Rooney has been a certain starter for England, and a star for Manchester United for many years, the striker is yet to impress at a World Cup.
And Hodgson has told Rooney not to let another major tournament pass him by.
The England boss said: "Maybe once or twice in the past he hasn't exploded as maybe he has on our national stage, where we all accept him as being an outstanding player.
"My hope and the message to him is: 'this is your chance'. He is 28, that's a terrific age.
"This is the world stage, the perfect opportunity for him to prove to people in the world what we already know - that he is a very, very gifted footballer, a very good all-round footballer who is capable of playing in many positions.
"He is someone who is a leading light in his team which is one of the best in the world.
"It would be nice to see him reproducing that form for England and I am confident he will. It's a great opportunity to show that he is not just a great star in the Premier League, but that he is a world star."