Manchester United forward Wayne Rooney is very happy to be staying at the club
Wayne Rooney says he is thrilled to have committed his long-term future to Manchester United.
Last Updated: 22/02/14 3:27pm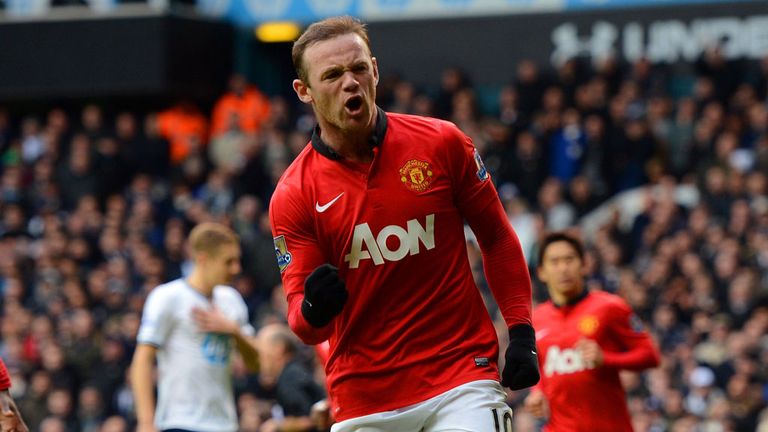 And the England man says he is confident good times are ahead for the reigning Premier League champions, despite a somewhat stuttering start to life under new manager David Moyes.
The 28-year-old's contract was due to expire at the end of next season but he has signed a four-year extension and will be with United until at least June 2019.
And Rooney told his own website: "Yes I'm very happy to have signed a new long-term contract with Manchester United.
"This is one of the biggest clubs in the world and to know that I will be playing here for the majority of my career is something that I'm looking forward to.
"I'm happy that everything is now finalised and I can carry on concentrating on my football."
Talks always positive
The deal took a while to negotiate and Rooney joked: "If you believe everything you read in the papers that's because I have been demanding to be captain and want an input into the club's transfer policy, which is totally laughable and of course untrue.
"The talks have taken a while but that's not unusual. It's been a difficult time for the club and there has been a lot going on but the talks were positive from the start.
"There was great belief in me from (manager) David Moyes, (chief executive) Ed Woodward and the board, and also the Glazers (owners). This made my decision a lot easier and I would like to thank them for that.
"Most importantly, the fans have always supported me since I joined the club, through the good times and the bad times. They continued this support whilst the talks have been going on and I can't thank them enough."
United are only seventh in the table at the moment, 11 points off the Champions League places, but Rooney says their slight dip in form this season is not a major worry.
"I know that's what some of the press thought but it's not a massive concern for me," he said.
Future bright for United
"This is because I know the direction that this club is going in, and if we don't make it this season then we will come back stronger and claim a Champions League spot next season.
"Let's not forget we still have a chance this year. Some of the other teams are playing well but we have a strong squad here and, if we have a positive end to the season, then who knows what can happen?
"The future is bright for Manchester United, this is still one of the world's leading clubs. We have seen this with the signing of Juan Mata (from Chelsea) in January.
"People have been saying that we may have trouble attracting the world's best players but I think the fact Mata came here shows this isn't true. This is a new era for the club, and we have a new management team and a great new manager in David Moyes."
Charlton total a target
And Rooney admits that Sir Bobby Charlton's Manchester United record goal tally of 249 could be in his sights now he will definitely be staying at Old Trafford for the long-term.
"It wasn't a factor in my decision to stay, but I do realise that this contract gives me the opportunity to achieve it," he said "This is definitely something I would like to achieve and do think about more. If I managed to do it, it would be something I'd be very proud of.
"My aim is always to score and create as many goals as possible, so if I can continue to score regularly and break the record then I would be delighted."
He signed off the interview with a message for the United fans, adding: "I'd just like to thank them for all their support since I joined the club and want to let them know that I appreciate it.
"I'm very happy to have signed a new contract and I'm looking forward to sharing many more special moments with them."