Premier League: David Moyes told Wayne Rooney he had 'gone soft' as striker nets new deal
David Moyes told Wayne Rooney he had "gone soft" when they met last summer.
Last Updated: 22/02/14 12:37pm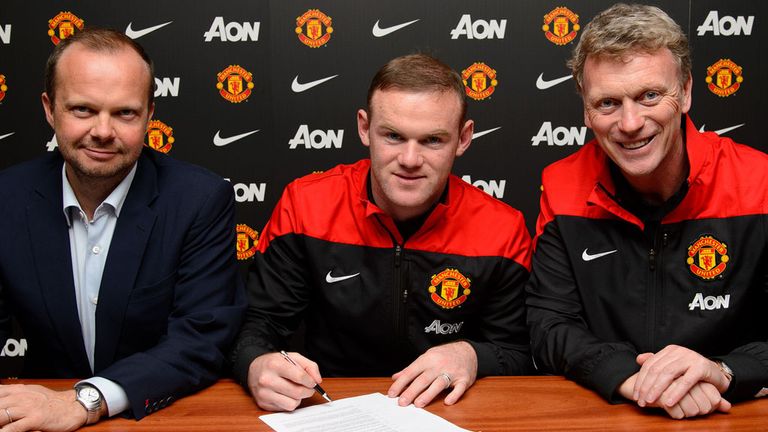 Rooney signed a new four-year contract with Manchester United on Friday night, keeping him at Old Trafford until 2019.
And United boss Moyes was thrilled to secure Rooney's future, with the striker favourite to become the new club captain next season.
But Moyes revealed he had a heart-to-heart with his former Everton protégé last summer before his official appointment as the new manager.
And he told the England international some home truths about his poor form at the end of the 2012-13 season under Moyes' predecessor Sir Alex Ferguson.
"I remember when he came to see me," Moyes said. "I said to him: 'If you ask me what's missing - I think you've gone a bit soft'.
"I thought he hadn't been the hard-working, aggressive player he was. But now in games people are saying: 'Look at the effort he is putting in.' It's his work-rate, not just for himself but for the team. He's become an all-round team player who is also a technically gifted footballer.
"I said to Wayne that I wanted him to stay. Before I'd actually come in here, I'd met Wayne privately a couple of times, to talk about his situation, to try to understand. So when I got in (on 1 July) I knew where Wayne was.
"The most important thing for Wayne was to show everyone what he really was and I think deep down he knows he didn't play as well as he could have done at times. I needed to try to get him back to that level. But in the end I just said to him: 'Wayne, go and get on with it.'
"His training was first-class, he came back in great shape, you could really see the hunger back in his eyes again."
Rooney had been regularly linked with move to Chelsea, but he has decided instead to commit his future to United. Moyes is now backing him to earn his place in the club's folklore and break Sir Bobby Charlton's goalscoring record of 249.
Rooney, who is 42 behind, told MUTV: "It's a great opportunity to try to break those kinds of records.
"I'm not too far away even though I've still got a few goals to go, but I'm confident I can reach it. Hopefully it will happen and if it does it will be a really proud moment."
He added on his official website: "This is still one of the world's leading clubs. We have seen this with the signing of Juan Mata in January.
"People have been saying that we may have trouble attracting the world's best players but I think the fact Mata came here shows this isn't true.
"This is a new era for the club, we have a new management team and a great new manager in David Moyes, there has to be some time for change.
"We have some great players here and despite our recent form everyone has stuck together and the team spirit is still good, we will continue to work hard and get Manchester United to the top where it belongs."
Sky Sports expert Gary Neville, who spent seven years playing alongside Rooney at Old Trafford, believes Moyes deserves credit for his role in the deal and can understand why he has been given such a lucrative deal.
"Talking about Wayne Rooney and the money he is signing for, the question you have to ask is how much does it cost to replace him?" said Neville.
"The market now is demanding. For a player who has scored the goals that he has scored in his ten years at United, you would be talking £50, £60million.
"I think from that point of view, the market forces that you have to pay the player what it would cost to replace him."