Champions League: Olympiakos boss Michel believes Manchester United could buckle under pressure in Athens
Olympiakos boss Michel believes Manchester United could buckle under pressure when the two sides meet on Tuesday night.
Last Updated: 25/02/14 6:52pm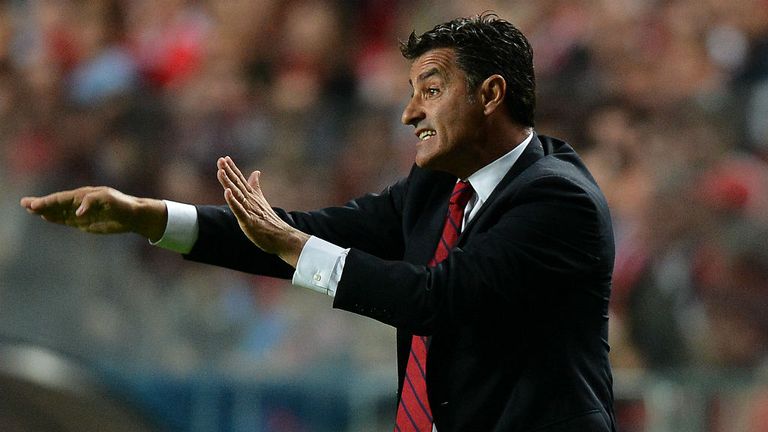 United sit 11 points adrift of the Barclays Premier League's top four, meaning the best possible route back into the Champions League could be through winning the competition.
With the likes of Barcelona, Bayern Munich and Real Madrid still in the Champions League, that could certainly prove to be a tall order.
And although Olympiakos look weak opponents on paper, the 28,000-strong home crowd will do everything they can to make United's well-paid stars uncomfortable.
Michel, who won the Spanish league six times with Real Madrid, believes the importance of the game could have a bearing on United's performance.
"We know there's lots at stake for Manchester United in this match," the Spaniard said.
"We know Manchester United are not allowed to make any mistakes due to their position in the Premier League and we have to say probably this kind of situation may weigh too much on their players' shoulders.
"It could be an incentive to them or it could be a burden on their shoulders.
"People say it'll be a very demanding tie and that's true. They are favourites, but nothing says we can't beat Manchester United."
UEFA ordered Olympiakos to shut a small section of their stadium as a punishment for displaying a Nazi banner during their group stage match against Anderlecht in December.
But the home contingent among the sell-out 30,000 crowd are still expected to make a lot of noise.
Some areas of Piraeus - the port suburb of Athens which will host Tuesday's game - are mired in poverty.
Football, therefore, provides the local populace with a means of getting away from their day-to-day struggles.
An Olympiakos official caused outrage when he branded the punishment by UEFA as "harsh", but Michel offered a more refreshing take on the stadium closure.
"If you break the rules you have to pay," said the former Real Madrid midfielder, who took over at Olympiakos last year.
"We hope it'll be a lesson not just for us but for everyone in football, to show that you shouldn't bring non-football things into a football match.
"Of course, we'd rather have all our fans tomorrow night, which would mean we'd made no mistakes and would have more people cheering for us, but it shows we have respect for the rules."
Michel has every reason to be optimistic about his team's chances of pulling off a shock win.
The Greek side came through a challenging group containing Paris St Germain, Benfica and Anderlecht.
In domestic competition they are also enjoying a stellar season.
Olympiakos are top and unbeaten in the Greek Super League and have only lost twice at home in the league in four years.
Michel's preparations for Tuesday's game took a hit on Saturday, though, when top scorer Javier Saviola was ruled out with a thigh injury.
Having sold Kostas Mitroglou to Fulham in January, and with fellow striker Marko Scepovic cup-tied, Olympiakos only have one registered frontman who is fully fit in 21-year-old Michael Olaitan.
Mystery surrounds the availability of January signing Nelson Valdez.
"He's alive and that's all I am telling you," Michel said with a smile when asked about the fitness of the Paraguayan.