Transfer News: Manchester United striker Federico Macheda expects to leave
Federico Macheda is not expecting to be at Man United next season, but hopes David Moyes' quality shines through.
Last Updated: 07/03/14 9:47am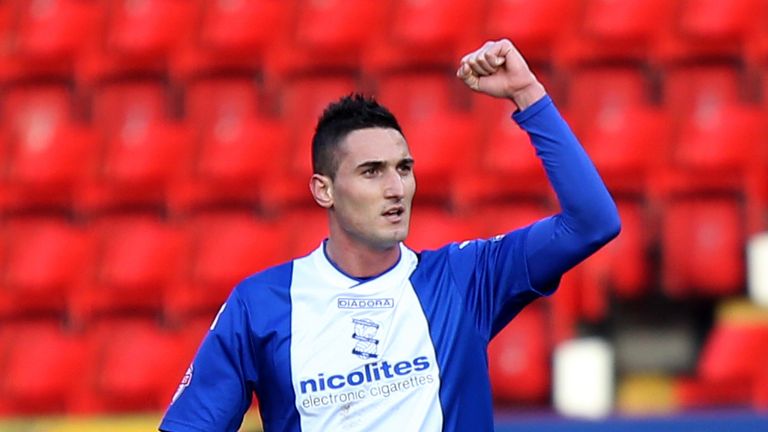 Italian striker Macheda burst onto the scene almost four years ago with memorable winners against Aston Villa and Sunderland in his first two appearances for United, but he has since struggled to make an impact at Old Trafford.
He is currently on loan at Birmingham City after previously taking in spells at Sampdoria, QPR, Stuttgart and Doncaster Rovers, and his contract at United expires in the summer.
The 22-year-old has not featured for United since Moyes replaced Sir Alex Ferguson as manager, but he is keen to remain in English football.
"I don't think I will stay at United but whatever happens, nobody can take away the memories of my time there," Macheda told the Daily Telegraph.
"My United contract runs out at the end of the season but I'm not worried about it now. When my loan finishes in May we will see what happens but I want to stay in England, ideally the Premier League.
"It will be strange for me because I'm starting all over again but my head is only focused on doing well at Birmingham.
"There's lots of things to improve on. I've got my whole career ahead of me. I will work harder to get my career back on track and I'm very confident about doing that."
Moyes has found his position as manager under scrutiny following United's dramatic slump since winning the Premier League last season, which was compounded further by last week's 2-0 defeat away by Olympiakos in the first leg of the last 16 in the UEFA Champions League.
Macheda feels you need 'something' to be United boss, but the youngster is hoping that the club can recover next season.
"It's been very difficult, I don't know the reasons why," he said. "Are new players needed? Well yes, of course, but last season they won the title with the same team and now they've got Juan Mata.
"People say they need new signings but it's still basically the same team that finished first last year. It's a big gap to the top four but they could have a chance. This season the title has gone but there is always next season.
"You have to have something to be the United manager and hopefully his quality will come out to the players for next season. With the players they've got they will bounce back."
Regarding his relationship with Moyes, Macheda added: "I haven't had that much to do with him because he has been working with the first team.
"I've been left out from the team and of course that was disappointing but you can understand a new manager wanting to work with new players.
"He made his choice and I went my way, everyone was happy. I spoke with him before I came here. I said I wanted to go to Birmingham and he agreed, so that was that.
"I didn't go on pre-season this summer and I don't know why. But I was prepared because I knew the new manager would want to bring in new players."