Premier League: Phil Jones and Rafael want Manchester United to win every game
Phil Jones hopes Manchester United have turned a corner after beating West Brom and was happy to play at centre-half.
Last Updated: 10/03/14 9:23am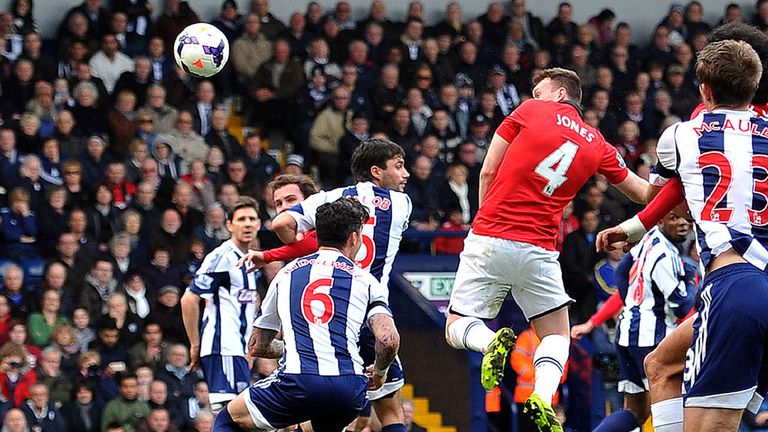 United have endured a difficult first season under manager David Moyes and headed to West Brom at the weekend on the back of losing 2-0 away to Olympiakos in the first leg of their UEFA Champions League last-16 encounter.
Moyes received a positive response from his players as goals from Jones, Wayne Rooney and Danny Welbeck secured just a fifth win in 13 games in 2014.
The Premier League champions next face Liverpool at home on Sunday before hosting Olympiakos in the return leg, and Jones is aware of the importance of every match between now and the end of the season.
"Every game is massive for us now," said Jones. "It's got to be the mentality now for the rest of the season, there's no two ways about it.
"Hopefully we've turned the corner but it's game by game for now. The fans expect us to win every week and so do we, so it's been difficult.
"I think the players and the staff have been surprised by how difficult this season has been. But when you pick up results like this it's nice."
Jones, who has played at right-back and in midfield on several occasions for United, partnered Chris Smalling in defence on Saturday and the England international enjoyed himself.
He added in the Manchester Evening News: "It's great. I enjoy playing at centre-half and, thankfully, I got the chance. It was nice to get the win and a clean sheet is a bonus.
"I enjoy playing with Chris. We haven't played that many times together but the more we play, the better our understanding will be and the better our performances will be."
Meanwhile, Rafael, who supplied the cross for Rooney's goal at West Brom, echoed Jones' comments regarding the importance of winning games.
"We need to win every game now," said Rafael. "We can't play to draw. We've the Liverpool game next, we're 2-0 down to Olympiakos. We have to attack and show everyone our real qualities.
"Sometimes you know you can get away with drawing the odd one but at this point we have to win every game.
"Against West Brom we showed how we have to play in the other games. We played like a team, with everyone fighting for each other.
"Every player here knew things had to change. We know we haven't played well this season but if we play like we did at West Brom we'll have a chance."