Phil Jones rallies Manchester United team-mates over final games of season
Phil Jones wants Manchester United to use their UEFA Champions League progress as a springboard for the coming weeks.
Last Updated: 22/03/14 4:43pm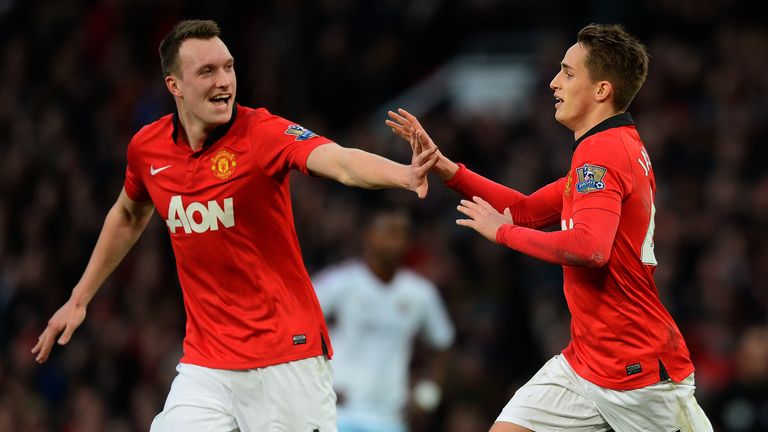 United's 3-0 win over Olympiakos on Wednesday night saw them overturn a 2-0 first-leg deficit and progress to the last eight, but they remain 12 points behind fourth-placed Manchester City in the Premier League.
Their chances of qualifying for next year's Champions League look bleak and next up for David Moyes' side is a tough away trip to West Ham on Saturday evening, live on Sky Sports 1HD.
It comes off the back of a miserable 3-0 loss at home to rivals Liverpool last weekend but Jones insists they will not give up the chase for a top-four spot.
"I think the Olympiakos game has got to be a springboard for us. We have to use this as an impetus to go and prove that we can win game after game," he said.
"We let ourselves down against Liverpool so it was good to get the win for us and the fans - it was a huge night.
"They have something to smile about now and hopefully we can kick on."
United's faltering season has led to increasing pressure on manager Moyes, who replaced Sir Alex Ferguson at the helm last summer.
But England international Jones, 22, says the squad are fully behind the former Everton boss and backed the group to improve during the season run-in.
"We have all had criticism and we're in it together. We're a team, the manager and the staff, and we've got to band together and come through this difficult period," Jones said.
"We will come through it. We're happy to be in the next round and whoever we get we will welcome, but hopefully we can go and put in another performance and qualify for the semi-finals."
You can watch West Ham v Man United live on Sky Sports 1HD from 5pm on Saturday.