Sam Allardyce advises David Moyes to be ruthless with Manchester United players
David Moyes should clear out players who are not prepared to buy into his ethos at Man Utd, says Sam Allardyce.
Last Updated: 22/03/14 4:42pm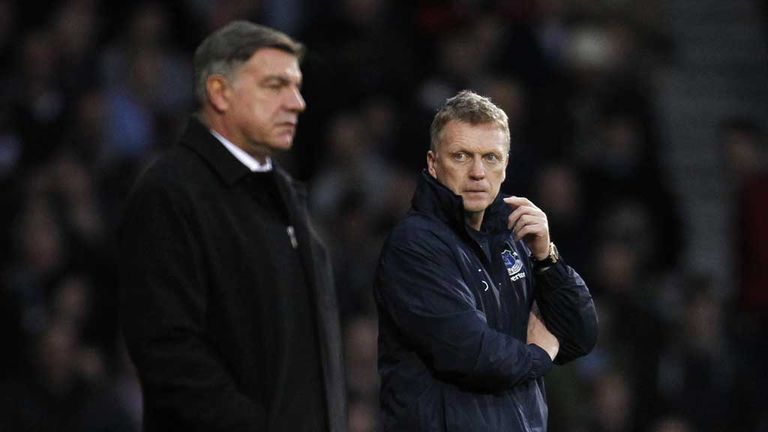 Moyes has struggled to make a seamless transition from the Sir Alex Ferguson era at United and the Red Devils currently sit seventh in the Premier League, 12 points off the top four with nine games remaining.
With captain Nemanja Vidic leaving in the summer and rumours of other senior players being unhappy with Moyes' approach, Allardyce welcomes United to Upton Park on Saturday evening with advice for the former Everton manager.
"He has to establish his own ideas," said Allardyce. "Transition is something where you have to get your own ideas over. Then you have to find out who wants to roll with you or not.
"If they don't want to roll with you - irrespective of what they have done before - as many chief executives have said to me, 'Don't waste your time on them - get rid of them son!' Transition has to be expected."
With no chance of retaining their Premier League crown, the only chance Moyes has to win silverware in his maiden season at Old Trafford is by winning the Champions League, but Allardyce reckons success may not be too far away for the Scotsman.
"It took Alex four years to win a trophy," he said.
"There isn't that much time now we all know that but in the end time will tell and we all know our position always will be judged on the results you get.
"You can't always be in your number one spot. Sometimes you have a little dip for whatever reason, it might be injuries or a loss of form by some of your players - it happens so you can't always be expected to finish where you should finish otherwise the game becomes too predictable and boring.
"So it's a poor season for Manchester United in the league - who knows what they might do in the Champions League? David will be sat there now, because everybody is writing them off, and that might not be a bad thing for them.
"They might be top of the league this time next year and everyone will be talking about what a great choice he was."
Watch West Ham take on Manchester United live on Sky Sports 1HD at 5.30pm