Premier League: David Moyes drops Wayne Rooney hint after stand-in skipper impresses
Manchester United boss David Moyes has paid tribute to stand-in skipper Wayne Rooney, saying he has 'led by example'.
Last Updated: 27/03/14 10:47am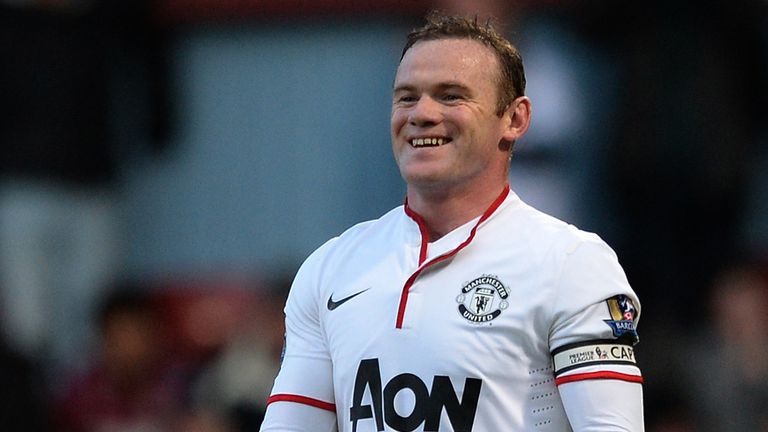 With Nemanja Vidic suspended and Patrice Evra benched, Rooney was handed the armband for Saturday's trip to West Ham and produced an inspired two-goal performance crowned by a strike from almost halfway.
The England international had appeared keen to leave Old Trafford in the summer but with the security of a new five-year deal, his return to form has heartened Moyes during a turbulent campaign.
"Wayne has led by example all season," Moyes said of his frontman. "Maybe wearing the armband, taking a wee bit of pride in wearing that, to show exactly what it means.
"He wants to take responsibility and I think you always want players who take responsibility.
"It's (that) sort of magic why you talk about the top players so much.
"Wayne scores two goals at West Ham and that's why, players of this ilk, you write about and talk about more than many others."
Moyes has maintained he will not choose a replacement for current skipper Vidic - off to Inter Milan in the summer - until the end of term but Rooney has spoken of his desire to lead both club and country.
"You get opportunities in football, even if you're a player out of the team suddenly you can get a chance," Moyes said.
"Or if you become a key player and then get the chance to wear the armband and take that on. He did that. He showed that against West Ham as well.
"I've said there will be no decision taken until next season, but we had injuries to Rio (Ferdinand), suspension to Vidic, injuries in part to (Patrice) Evra so we decided to put him on the bench, and I thought Wayne picked up and did what he needed to do."
Victory at West Ham after a Champions League triumph over Olympiakos have brought renewed confidence ahead of Tuesday's derby clash with Manchester City.
"We go in after a better showing; if we play as well as we did at West Ham then we will make opportunities, we'll make chances," Moyes added.
"If we play with the same heart we showed against Olympiakos then we'll be very hard to play against and have a big spirit in the game."