David Moyes says Manchester United's fans deserve derby victory over City
David Moyes says his Manchester United team are determined to reward the club's fans for their loyal support.
Last Updated: 25/03/14 7:17pm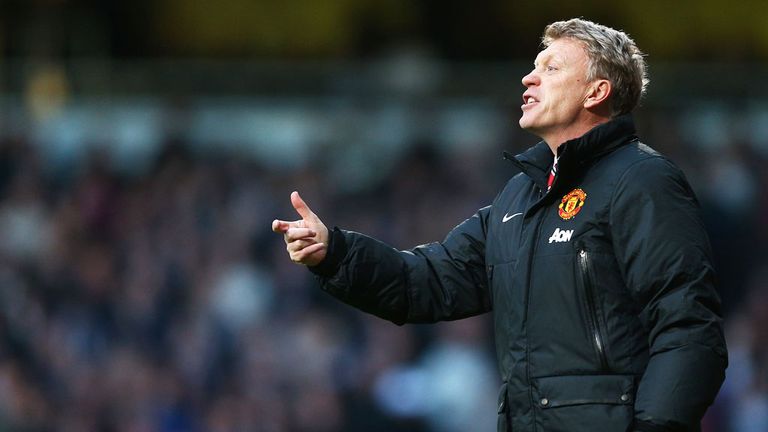 Arsenal are the only top nine side United have been able to defeat so far this season, but they have an opportunity to damage Manchester City's Premier League title challenge at Old Trafford.
Moyes' men have enjoyed a good few days, reaching the last eight of the UEFA Champions League before winning at West Ham on Saturday.
And the United manager is hopeful his side can give their supporters even more to shout about by defeating their local rivals.
"I've said many times how well the supporters have reacted to what has been a difficult season," said Moyes. "They have been great and the atmosphere has been great inside Old Trafford.
"They have played their part in helping the team. We've not always done our side of it, but recently we have, and the supporters have responded to that as well.
"We go out to win every game, not just the derby game, but obviously it means a lot more to supporters and it means a lot in the city, if we win.
"We want to try and perform better in the bigger games than we have done.
"It will be important for us to show the level of what we have got. I think we have got the level, that we are not as far away as many people would have us, and I have no doubt it will improve. We want to show we are still in there fighting.
"I think, the last couple of games, a lot of the players have really stepped up and performed, but I'm not surprised by that at all.
"I think that's what they are capable of and I've been saying that all year. I've been saying we have got a good squad, we have got good players.
"We maybe haven't played as well as we should have but I do think we have got those capabilities in the squad."
Carrick
United are short of fit defenders at the moment but midfielder Michael Carrick played well in the heart of the defence at Upton Park and Moyes is confident he has the resources to cope.
"We'll do everything we possibly can to try and get the players back," he said.
"But Michael Carrick did great at centre-half. He has played there before, so it wasn't a problem.
"We even considered putting (Marouane) Fellaini back there as well, so we have got people who can play there if they have to.
"We gave Pat Evra a rest but I think, if we have to, we could put Pat Evra there as well, and he would cope manfully.
"It was great that the squad mucked in. We were short on Saturday and Michael Carrick certainly played very well."
Wayne Rooney will be a key man on Tuesday and he warmed up with a sensational goal-of-the-season contender during the 2-0 win at the weekend.
Moyes said: "His form throughout the season has been very good, and his goal capped off what everyone is aware he is capable of.
"He is talked about a lot because of the ability he has got as a footballer and he showed on Saturday he is capable of doing something that maybe not every player is capable of.
"More important for me is how well he has played for the team. From day one, he has been a great team player."
Manchester United v Manchester City (kick-off 19:45) is live on Sky Sports 1 on Tuesday night