Wayne Rooney is already a Manchester United legend, says David Moyes
Manchester United manager David Moyes believes Wayne Rooney is up there with Denis Law and Sir Bobby Charlton.
Last Updated: 25/03/14 6:02am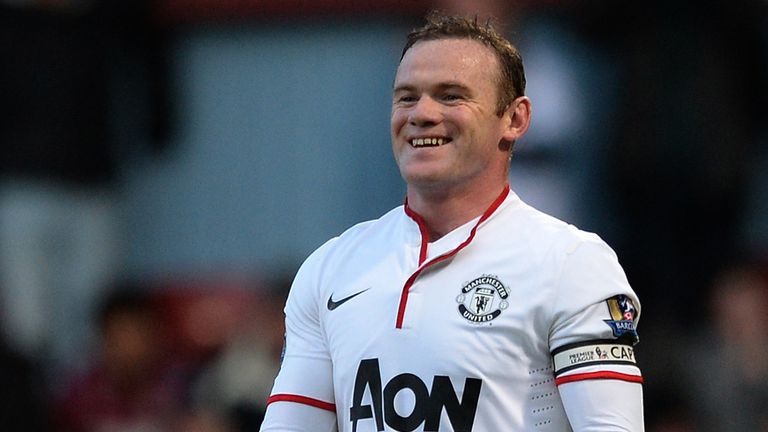 Rooney, thriving in his 10th season at the club, became United's third-top scorer of all time when he bagged his 211th and 212th goals for the club in Saturday's win over West Ham United.
The former Everton striker, 28, has been criticised in recent seasons and his commitment to United questioned on more than one occasion, but he is just 26 goals shy of surpassing Law and 38 away from moving above Charlton as the club's all-time top marksman.
And Moyes insists Rooney, who is rejuvenated after signing a new five-year-deal at the club last year, has already gone down in United folklore.
"If you are third top scorer of a club like Manchester United you already are a legend," the Reds boss said.
"As long as he doesn't pick up any serious injuries he has a real good chance of breaking Denis Law's and Sir Bobby Charlton's records and that would be some feat.
"His form throughout the season has been very good and his goal against West Ham capped it all off. He showed what he is about and he has a big energy back again.
"Everyone who knew Wayne Rooney in his early days would say one of the biggest things about him was that he had big energy and a big heart and if you get Wayne playing like that then the rest of his football takes care of itself."
United host rivals Manchester City on Tuesday night as they continue the unlikely chase for a top-four spot, sitting 11 points behind Arsenal in seventh place.
Moyes added: "I don't know if Wayne will be the key man in this game because it will have many top-class players in it, but he is certainly one of them."