Manchester United's Juan Mata frustrated by European ineligibility as he thanks fans
Juan Mata has admitted it will be difficult to miss Man Utd's clash with Bayern Munich, while he has thanked the fans.
Last Updated: 29/03/14 10:01am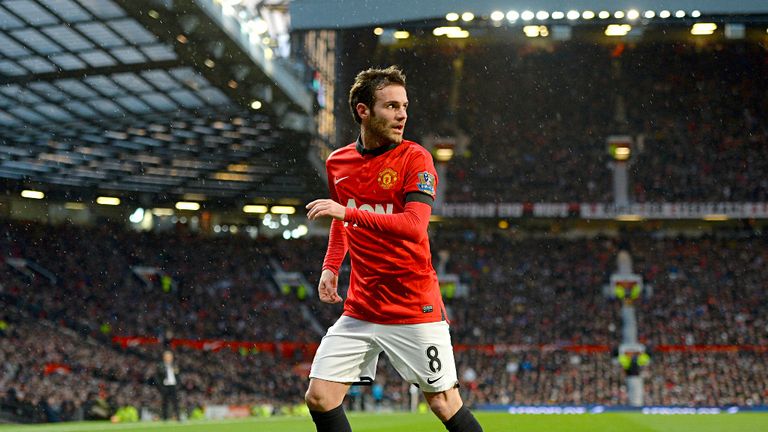 United's disappointing season continued with a 3-0 loss at home to local rivals Manchester City in midweek, but they have made it through to the last eight of European football's premier tournament and will face Bayern Munich in the first leg of their tie on Tuesday.
Mata is cup-tied, having already played in the competition for Chelsea this season, but he thinks United can defy the odds to progress further.
"It's frustrating being cup-tied, but it is how it is," said the Spaniard in the Daily Mirror. "Those are the rules and I knew that before I came here.
"But I was really pleased with the comeback against Olympiakos in the previous round. I was in the crowd for that game.
"It is difficult because you want to play, and when you can only watch as a fan it is tough.
"People are saying how Bayern are going to score a lot of goals, but let's try to avoid that. I think we can, I really do.
"Every game is different. Right now Bayern are the favourites, they have the pressure to try to win, so we will try to avoid that and try to change what everyone is thinking about the chances we have to qualify.
"Why not? I remember my first season at Chelsea, when we beat Barcelona to reach the Champions League final.
"Everyone was talking about a Barcelona and Real Madrid final, and at the end it was Bayern Munich and Chelsea, so you never know what can happen."
Mata has struggled to find his best form since making the move to United from Chelsea in January, but he has been overwhelmed by the backing he has received from fans and is desperate to repay them with a good performance against Aston Villa on Saturday, when some supporters are reportedly planning for a banner to be flown across the ground in protest at David Moyes.
Mata said: "For us, it is very important to have our confidence back and it is also very important to show the crowd, to show the fans, that we are giving them what they deserve.
"They deserve more than they are getting. They deserve great football, they deserve to see wins, so we will try to do that - to win and to do that playing great football. But it is going to be tough because no game is easy these days.
"The fans at Old Trafford have been amazing. For me, walking back to the tunnel after losing 3-0 against Liverpool and Manchester City, feeling really disappointed, to see them supporting us, and singing and clapping, it's amazing.
"I feel sorry for them and the only thing I want to do is keep playing and keep trying my best to show that we can and have to do better.
"As a player, when you see the supporters being like this, you are nothing but grateful and you have to carry on and give 100 per cent. You can play better or worse, but you must always give 100 per cent."