Phil Jones hopes things improve for Manchester United and backs David Moyes
Phil Jones has insisted the players take their share of responsibility for Manchester United's failings this season.
Last Updated: 31/03/14 10:17am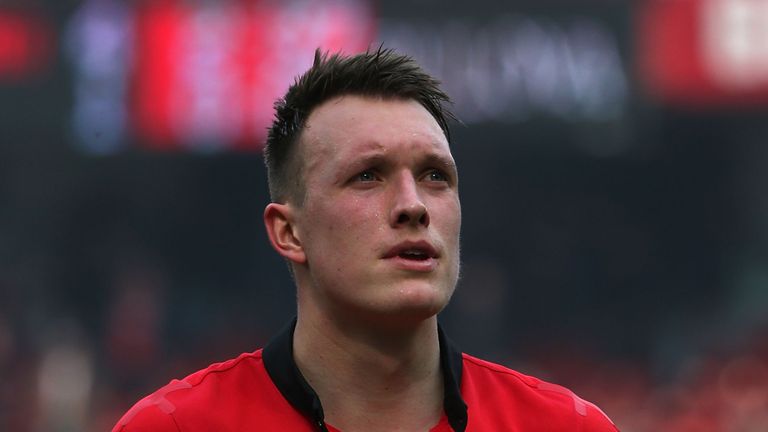 A group of United fans had arranged for a plane to be flown over Old Trafford on Saturday carrying a banner which read: 'Wrong One - Moyes Out', but the supporters inside the stadium showed their backing for the manager.
United then fell behind to an Ashley Westwood free-kick before Wayne Rooney's brace, and Juan Mata's first goal for the club, helped to secure a 4-1 victory.
It was the first time since the opening game of the campaign that United have scored four goals in the Premier League following a stuttering first season under Moyes which has left the reigning champions 17 points off the title pace.
However, Jones is optimistic that the situation will improve and the defender was pleased to see Moyes receive the backing of United supporters against Villa.
"We have not done anywhere near as well as we would have liked this season but we can only stick together, keep doing the right things and it will change," said Jones. "We showed that against Villa.
"The plane was well documented and everyone knows it is going on. But I thought the fans were terrific again.
"They got behind the team and especially the manager.
"The manager deserves that. He picks the team but we have got to take responsibility, and we will do."
Saturday's win over Villa came on the back of a 3-0 home humbling by neighbours Manchester City, while United had also been beaten by the same scoreline by arch-rivals Liverpool earlier in March.
United next face Bayern Munich in the first leg of the UEFA Champions League quarter-finals on Tuesday and Jones is happy to be heading into the home game with the holders on a winning note.
He added: "It's always nice to get back to winning ways. It was important to do that ahead of what is probably the biggest game of the season for us.
"We are realistic and know how difficult the game is going to be.
"We know how well they are playing. They are in form and have won the league with seven games to go.
"I think if we were top of the league, Bayern would still have been favourites because they have a superb team full of individual class. We have got to work on how to beat them.
"We will study them, look at what they are good at and try to exploit any weaknesses that they do have.
"Who knows? It is the Champions League, it is a home tie at Old Trafford and if we get the crowd behind us then you just never know."