Bayern Munich boss Pep Guardiola honoured to face Man United and jokes about Ferguson offer
Pep Guardiola has said it is an honour to face Man Utd and joked he may have received an offer from Sir Alex Ferguson.
Last Updated: 01/04/14 6:49pm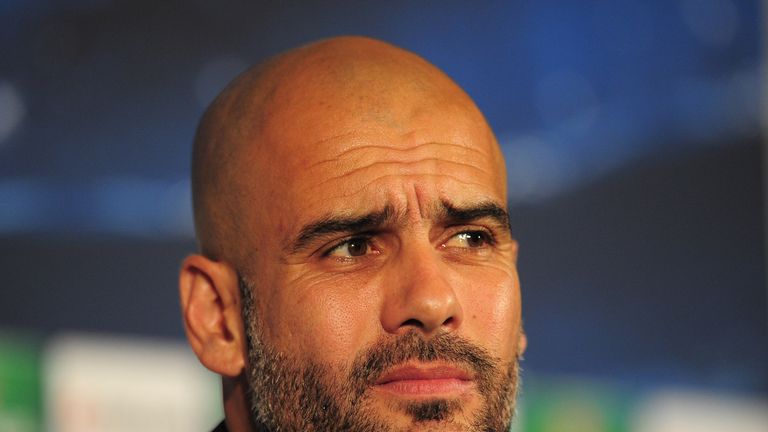 Ahead of their quarter-final first leg at Old Trafford on Tuesday, the former Barcelona head coach revealed he had dinner with Sir Alex Ferguson as the previous United boss searched for his successor.
However, Ferguson chose David Moyes, who has found himself under increasing pressure this season with United almost certain to miss out on next year's Champions League - the first time they will have done so in over 20 years.
But Guardiola said: "To try to achieve the next round against a team like Manchester United is a real honour.
"The Champions League is not the most important title - the domestic league is - but it is the most prestigious.
"Now we are eight teams in the quarter-finals and every trainer and every player wants to win it - but it is not easy.
"We are going to try, you can be sure of that, but Bayern Munich have only won it twice since 1976, when Franz Beckenbauer led his team."
Guardiola has spoken previously of his admiration for and friendship with Ferguson, who retired from football management after 27 years, two Champions Leagues, 13 Premier League titles and five FA Cups with United.
The Spaniard added: "Sir Alex invited me to a superb restaurant and we had a very good time.
"It was friendly and, like always with me and since I started as a coach, he was so gentle and we spent a very good time together."
Guardiola then joked: "My English is not too good and sometimes he was probably speaking too quickly for me to understand - maybe that's why I didn't understand if I received an offer or not."