Manchester United's Wayne Rooney rejects diving claims by Bayern Munich
Man Utd striker Wayne Rooney has rubbished claims he dived to get Bastian Schweinsteiger sent off against Bayern Munich.
Last Updated: 03/04/14 1:29pm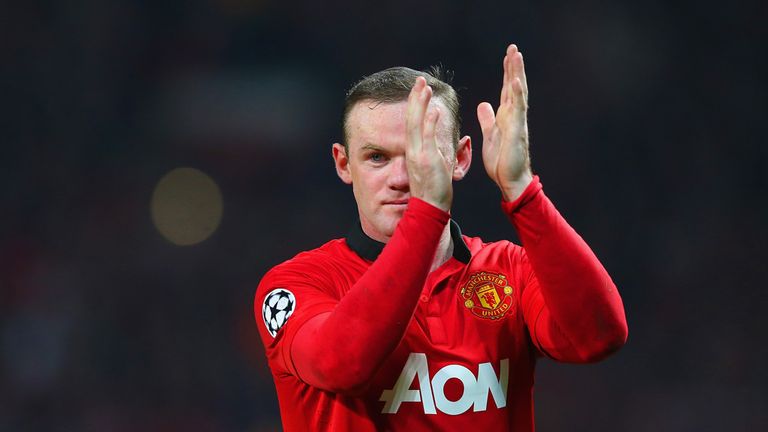 The Bayern midfielder, now suspended for the second leg of their Champions League quarter-final in Germany, appeared to make a diving gesture after the incident, as did his manager Pep Guardiola.
Rooney, who also criticised team-mate Danny Welbeck for his fluffed shot at Old Trafford in the first half, said: "I don't really want to say what [Schweinsteiger] said, but I thought it was a foul.
"If I didn't get out of the way he could have hurt me, he's gone in with his studs and the referee has booked him, so it's not my decision.
"It's not nice to see anyone get sent off. I didn't try and get him sent off, the referee has made the decision. I have tried to stop myself from getting hurt and the referee has had a decision to make.
"He's a great player and he's obviously someone they will miss - and [Javi] Martinez as well being suspended - but they have a great squad of players who can come in."
David Moyes' men had just 26 per cent possession, an all-time low for the club in the Champions League, yet enjoyed the better chances. Rooney admitted it could have been even better if Welbeck had not wasted a golden chance by trying to chip Manuel Neuer when one-on-one with the Bayern keeper.
Welbeck appeared to get a verbal blast from his team-mate immediately afterwards, and Rooney said his colleague had tried the wrong tactic.
He stated: "We have watched videos of their goalkeeper and we know he is a bit like Peter Schmeichel in the way he comes out so it's a bit disappointing that he tried to dink him but he will learn from that.
"I'm sure if he gets a chance over there he won't do that again."
The 28-year-old admits Bayern remain favourites but that a win in Munich would keep United's troubled season alive.
He added: "I think it was a good result in all with the way the season has gone and we are still in the tie.
"They are favourites for the tournament and it will be a tough ask over there but all we could do is make sure we stay in the tie and give ourselves a chance over there and we have done that.
"Defensively we were organised, we defended really well - we have some great players - and we had to and if we had been a bit more composed in front of goal we should have or could have won the game.
"We knew it was going to be tough and that they would have a lot of possession and we would have to try and limit the chances they could create with that possession and I thought we did that really well, and I thought the experience showed - Rio Ferdinand and Nemanja Vidic did really well.
"I think we had the better chances and we're disappointed we didn't take one more. They're European champions and we have seen them go to Arsenal and win 2-0 there so this is a good result."
Bayern have not done well against English sides at home in Europe however - they were beaten by Manchester City and drew with Arsenal this season, and lost to the Gunners last year.
Rooney said: "It's a massive game for our season. I scored there last time, it's a fantastic stadium to play in and to go there with the chance to knock the holders out of the tournament is a great incentive to us.
"A result there will keep our season alive so we're looking forward to it and it's a massive challenge to us and we have to go and prove we are a good team."