Premier League: David Moyes admits he put off his return to Goodison Park
David Moyes chose not to return to Everton on scouting missions after his attempts to sign former players angered fans.
Last Updated: 19/04/14 11:18am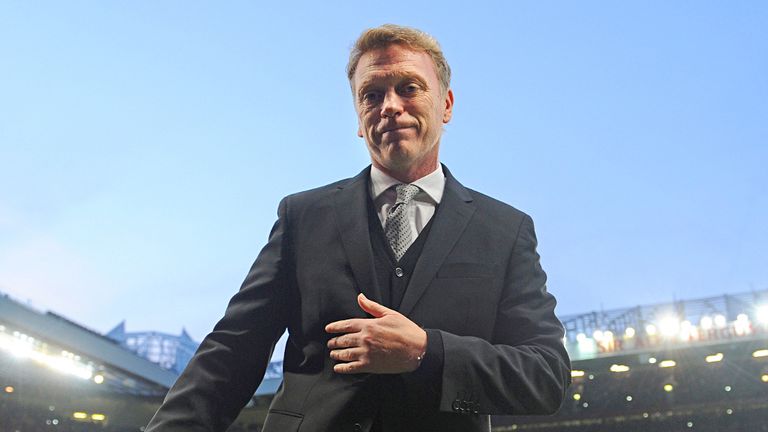 Moyes spent 11 years as manager of Everton, but will sit in the away dugout for the first time on Sunday when he takes Manchester United to Goodison Park.
He was given an emotional send-off by Evertonians in May ahead of his move to Old Trafford, but that relationship soured after he tabled a £28m bid for Leighton Baines and Marouane Fellaini, described as "insulting" and "derisory" by the Merseyside club.
Everton fans booed Moyes when they visited United in December and the Scot has decided to stay away because of the strong feeling of resentment towards him.
"I went to see Everton (play) last Saturday at Sunderland, but I've not been back to Goodison this season," he said.
"It's nearly a year since I left.
"I've just felt that it wasn't the right time to go back at this moment in time.
"Time is a big healer.
"I think there was animosity at the way we would have liked to have bought a couple of the players. But some Manchester United players go to Everton, so there is reverse."
Moyes believes some of the ill-feeling stems from his departure, with suggestions that he stalled on a new deal because he knew Sir Alex Ferguson would retire as United boss at the end of the season.
He insists this is not the case, but concedes that fans may doubt his version of events.
"What needs healing, possibly, is the way people saw me leaving," said Moyes.
"Maybe people don't believe how it happened.
"But it is exactly how it came about. It happened two weeks before the end of the season.
"I had been there for 11 years. You'd have to say it couldn't have been done much better."
Everton remain in the hunt for a UEFA Champions League place, despite the 3-2 midweek defeat by Crystal Palace.
Moyes has been impressed with the club's success under Robert Martinez, but reminded the Everton faithful that they also enjoyed good times while he was at the helm.
"I think it's great credit to Roberto but there was a group of players there who were always capable of improving, getting better and moving further up the league," he said.
"You have to remember that Everton finished above Liverpool for the last two years and got into the Champions League (qualifying stages in 2005).
"Hopefully in time everyone will look at (my time there) and say it was a really good time in Everton's history."