Christian Purslow says David Moyes paid price for Manchester United's Champions League failure
Christian Purslow says David Moyes was the "wrong man at the wrong time" for Manchester United.
Last Updated: 22/04/14 4:10pm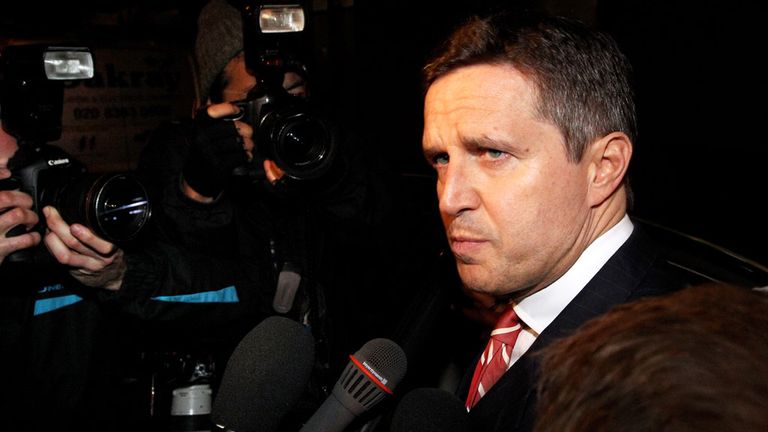 Moyes was sacked by United on Tuesday after just 10 months in charge at Old Trafford with the club heading for their worst finish in Premier League history and likely to miss out on European football next season.
Purslow, who was at Anfield when Liverpool dropped out of the Champions League, believes the financial pressures of missing out on Europe's top club competition were a major factor in Moyes' exit.
"On Sunday (after United's 2-0 defeat to Everton) it became mathematically impossible for them to qualify for next season's Champions League - and the message coming out today from the Glazers was that was the minimum requirement," Purslow told Sky Sports News.
"Last season they won the league by 11 points - in their worst nightmares they could not have expected to find themselves out of this tournament.
"They've been first or second in 18 of the 21 years of the Premier League and never lower than third - I'm quite sure they could not have anticipated this level of under-performance.
"From a business perspective - and that's what this is all about - the club is structured in every respect to be playing on a Tuesday or Wednesday evening at this time of year against Real Madrid, Barca and Bayern Munich.
"Their sponsorship deals expect that, their players have contracts and wages that reflect that level and when that's not happening it's very damaging.
"This is a company that floated on the New York Stock Exchange less than two years ago - today it's worth nearly three billion dollars - do you think any of those investors would invest in a club outside of the Champions League? I think not.
"If I was chairman of a three billion dollar company - looking at what is required this summer, I would have made a change."
Purslow also questioned the wisdom of United's former chief executive David Gill standing down at almost the same time as Sir Alex Ferguson announced his retirement last summer.
"David (Gill) had a number of years working alongside Sir Alex when Manchester United were absolutely dominant in English football - the one big job David was always going to have was when Sir Alex decided to retire," he added.
"For David to announce his departure three months before Sir Alex was a huge mistake - it should never have been allowed to happen.
"It meant that it was July 1 before a new CEO and a new manager had arrived - by then Manchester City had made four top quality signings - and United were always playing catch-up."