Ray Wilkins: Carlo Ancelotti would be a perfect fit for Manchester United
Ray Wilkins believes Carlo Ancelotti would be the perfect man to replace David Moyes as Manchester United manager.
Last Updated: 23/04/14 8:04am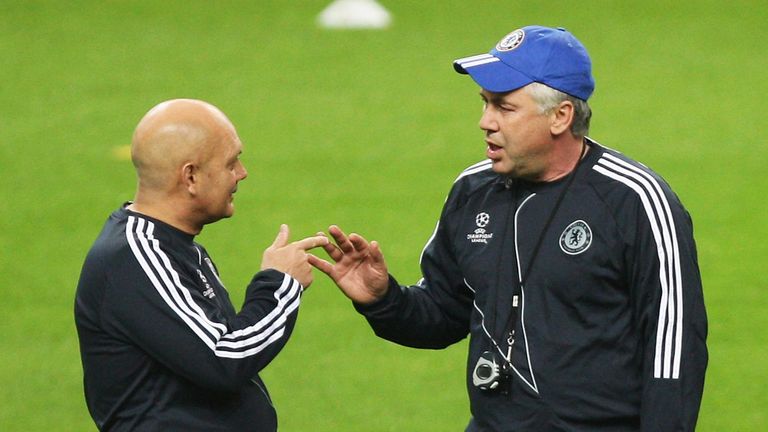 Real Madrid boss Ancelotti is involved in a three-way battle for the Spanish title and is preparing his side for their Champions League semi-final against Bayern Munich.
But Wilkins, who was assistant to the Italian at Chelsea four years ago, says he could be available in the summer if he doesn't win at least one of those competitions.
"I think Manchester United will go for an experienced manager. David Moyes was the right man last year after his time at Everton, but the name that jumps out at me is Carlo Ancelotti," Wilkins told Sky Sports News.
"The Copa del Rey is not enough for Real Madrid, so if he doesn't win La Liga or the Champions League, he may become available. He speaks English, knows the Premier League and I think he would be ideal."
Ryan Giggs will take charge of the team for the rest of the season, but former United midfielder Wilkins believes it would be best for the club if they don't finish the season well and fail to qualify for the Europa League.
"The worst thing that could happen to them is to qualify for the Europa League," he added.
"They have to stay out of it, accept this year has been a bad year and concentrate next year on playing Saturdays, because the last thing they need to be doing is going away and playing on a Thursday evening and then coming back on a Sunday and playing catch-up. It's very tough to get in that top four playing catch-up."
However, he said the club will struggle to attract the best players this summer and could even miss out on the best coaches because of the lack of Champions League football next season.
"The big problem Manchester United face is bringing in the A-listers," he said.
"They've got the name of Manchester United and people wanting to play for Manchester United, but there's no Champions League and the A-list player really wants to play Champions League football, but then that also applies to the coach.
"As much as the coach would love to coach Manchester United, the sort of coaches that we're talking about won't be interested at all.
"If United want the big players they are going to have to pay more for them now, far more, because there is going to be a premium for these players now.
"Whether you can bring the guys in to make it the team that it was remains to be seen. It's going to take a lot of money and more than one window. There's a lot of re-shaping to do at Old Trafford."
Wilkins said the players should take responsibility for club's decline in the last 12 months.
"I'm saddened because I thought David would be given far more time to resurrect a club that has had an appalling season," he said.
"They won the title last year with the same group of guys, but they haven't matched up to what they did last year. I feel for David because those same players won it for Sir Alex but were nowhere near the same this season.
"The squad was a championship winning squad so it was good, but a lot of players have aged at the same time. The decision by (Nemanja) Vidic to leave and make it known he's leaving for Inter, doesn't help the manager. You want your top, senior players really pulling for you.
"I think the supporters stuck with David, he hasn't received that much flak from within the stadium. Outside, on these social media networks, which I don't agree with, they have caned him, but that's life and the support inside the stadium has been very good.
"It was always going to be a tough ask and unless they acted in the first window, last summer - that's when they should have done their business - but David Gill also left the club so the transfers weren't brought in."