Former Manchester United striker Andy Cole criticises handling of David Moyes' exit
Former Manchester United striker Andy Cole describes the manner of David Moyes' sacking as 'disappointing.'
Last Updated: 23/04/14 3:07pm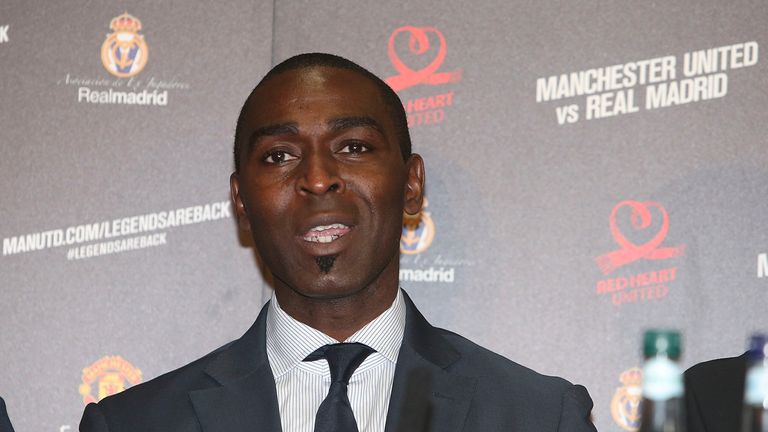 Rumours Moyes would be shown the Old Trafford exit door dominated Monday's news but it was not until Tuesday morning that the Red Devils officially confirmed the 50-year-old's sacking.
Veteran midfielder Ryan Giggs has taken temporary charge with four games remaining, and his former team-mate Cole believes the club must think long and hard about their next managerial appointment.
The former England striker told Sky Sports: "I think everyone's very disappointed with the way it's happened - all in the press first. Tempers and feelings are running high but Manchester United are trying to do the best by Manchester United.
"Throughout the season, it's been documented that there have been a few problems with a few of the players. It looks like they've never been addressed. You can't really have ill feelings towards your players.
"When you go into a football club like United, of course you're going to get the backing of your players because they want to be winning things season in, season out. This season, it hasn't gone for them and everybody's been disappointed with that.
"Unfortunately, you can train as well as you like but when it comes to Saturday, you're expected to get three points at a club like United. They haven't been able to get the wins. Training is about honing your skills and bringing it out onto the field and it hasn't happened this season.
"I would not be surprised if Ryan (Giggs), Nicky (Butt) and Scholesy (Paul Scholes) were involved in some capacity next season. To have them back at Manchester United is absolutely phenomenal.
"I've been fortunate to play with Ryan and he knows what he wants to do. He's been at the football club long enough so he'll have his ideas on what he's looking to do and what sort of football he wants to play.
"It's a big decision for United now. No doubt they will take their time over it. They'll consider a lot of candidates because they need to get this appointment right. They'll have a good look at it and go for the person who they think can bring United forward.
"I was very fortunate to play in an attack-minded team at United, who scored a hell of a lot of goals and played attractive football. That's United's heritage, the way they want to attack teams and a manager with that philosophy will always go down well at United.
"With the names around like Louis van Gaal and Carlo Ancelotti - they could come to Manchester United and do a fantastic job."