Louis van Gaal backed for Manchester United manager's job
Holland legend Ronald de Boer has backed his compatriot Louis van Gaal for the Manchester United job.
Last Updated: 24/04/14 3:00pm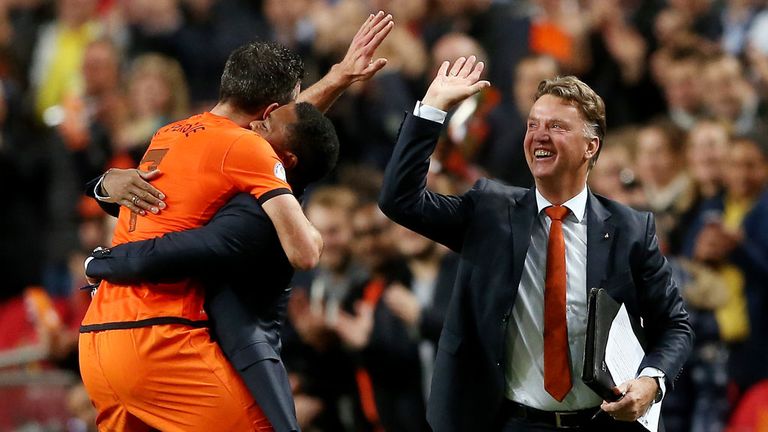 Following David Moyes' sacking on Tuesday, Van Gaal is the odds-on favourite to step into the Old Trafford hot seat this summer - and De Boer has talked up the 62-year-old's credentials.
The former Ajax and Barcelona midfielder told Sky Sports: "I think he [Van Gaal] would be an excellent choice. He has all the qualities to run the team for Manchester United.
"He has every skill. He took me back to Ajax and we had all that success and then we went to Barcelona. He wasn't so successful with the Dutch team but he's still heading for the World Cup and for me he has all the skills to run a difficult club like United.
"You need to have a vision to adapt to a situation. You need to know when to change a team with new players and young players. He has a very good eye in that way.
"As for his technical skills, there were no doubts about that - he was always out front. He could change thing with one or two technical moves and everything was perfect again. When you work with him you understand his composure and work ethic."
Swansea goalkeeper Michel Vorm, who has worked under Van Gaal for the national side, told Sky Sports News: "I think he's very clever. You can tell that he's got a lot of experience and he analyses teams very well.
"He's very straightforward and for me, he's one of the best managers that I've worked with because he makes it very clear in what he wants. It doesn't matter who you are - he treats everybody the same.
"If he comes to the Premier League, he will do well no matter which team he's going to coach. I'm 100% sure that with his experience and what he's already achieved, he would fit the bill at United."
Vorm's current club boss, interim player-manager Garry Monk, offered words of encouragement to United counterpart Ryan Giggs.
The 35-year-old said: "He knows football. He's a club legend. You'll get people questioning him experience-wise but you can't tell me that he doesn't know football. I just wish him all the best.
"It's sad when a manager goes but Ryan has an opportunity there and I'm sure he'd be a good man for the job.
"From a player point of view, when you're a player going into that role, the advantage is that you know the players really well. You know what they're thinking and you know what they want.
"It's an advantage you have to try and use. It doesn't always work and it's not always so simple. Normally when there's a change it's because the club's been in trouble and performances haven't been right.
"It's never an easy situation. It's something that I find out. It's something where you have to have the trust of your players and try and put your points across."