Premier League: Manchester United boss Ryan Giggs to speak to press on Friday morning
Ryan Giggs will meet the media on Friday morning for the first time since taking over as interim Manchester United boss.
Last Updated: 25/04/14 10:16am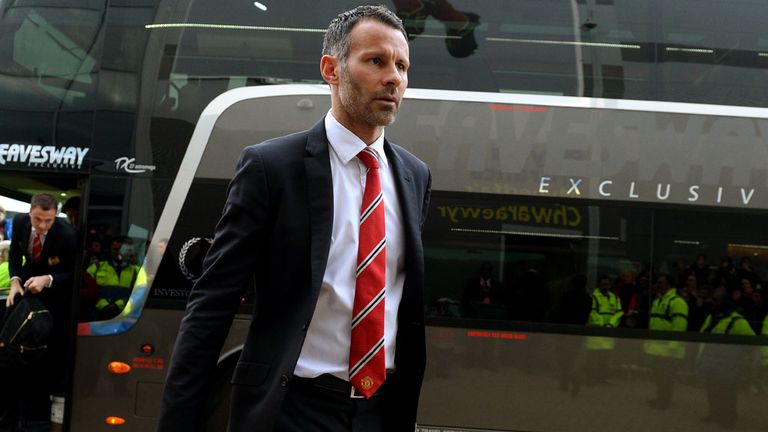 Giggs was placed in charge at Old Trafford when David Moyes was dismissed from his position on Tuesday.
The 40-year-old's press conference will take place at United's Aon Training Complex, moving back to the room where Sir Alex Ferguson held his weekly meetings when in charge.
Taking another leaf out of Ferguson's books, Giggs has scheduled the press conference before training, while Moyes had moved them to after the squad's Friday session.
Giggs' first match in charge comes up on Saturday against Norwich City, with the game live on Sky Sports 1, kick-off 5.30pm.
And the Welshman has already told his players he wants them to start playing like Manchester United again, pressing teams as they did under Ferguson.
He has four matches to impress the club's owners if he is to become a candidate to take over from Moyes on a full-time basis, although other more experienced names such as Louis van Gaal are favoured by bookmakers.
Butt
Meanwhile, Nicky Butt says he is immensely proud to be assisting Giggs but expects all the players to react in a positive manner, starting against Norwich.
The former United and England midfielder has answered Giggs' plea to join former team-mates Paul Scholes and Phil Neville in helping the Welshman guide last year's champions to the end of the season.
"It will be massive for us, a proud moment for us all," Butt told MUTV. "To be there together is a bit of a surreal thing.
"We walked in here together when we were 12 and to be here now - I'm not 40 yet but Giggsy is, and myself and Scholes are nearly there too. So for us and Phil to be there together is a very proud moment.
"We're here to try to help the club and get the results that we want from now until the end of the season. What happens after that, who knows?"
"Saturday is a massive occasion, not only for Ryan, but for the staff, the fans and the players as well because they know that we've underachieved as a club this year.
"The players in that changing room know how good they are. They look round, look left and look right at the players next to them and know that they are very proud, hard-working lads. I'm sure we'll see that on Saturday."
Neville
And Gary Neville, another member of the 'Class of 92' says United don't need a "big name" manager as they start their quest to replace Moyes.
"The suggestion that they need a big manager to attract players to the club, I find that a bit sad to be fair," he told Sky Sports.
"The idea that Manchester United Football Club need to have a sort-of figurehead to be able to attract players is a nonsense as far as I'm concerned.
"Manchester United, as a football club, is big enough in its own right to be able to attract players - and they should be.
"It seems to be pointing in that direction and I suppose at the start of next season, if they can spend the money that they have wisely and there's a new big-name manager then times will be exciting again.
"The reality of it is that it doesn't really matter who the manager is. What matters most to Manchester United fans is that they actually win football matches and get back to where they belong."
Watch coverage of Giggs' first press conference on Sky Sports News from 10am