Sir Alex Ferguson gives seal of approval to interim Manchester United boss Ryan Giggs
Sir Alex Ferguson has backed Ryan Giggs to take over as Manchester United manager on a permanent basis.
Last Updated: 26/04/14 8:37am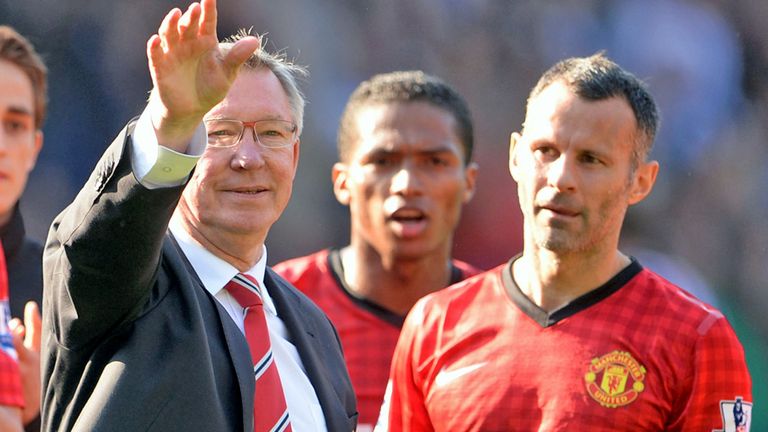 Giggs takes charge of United for the first time at home to Norwich on Saturday, having been placed in control on Tuesday in the wake of David Moyes' dismissal.
The United legend held his first press conference on Friday, when he admitted he had already started to lean on Ferguson for advice.
Giggs said: "He was the first person I picked up the phone to. Why wouldn't I? He's been everything you can as a manager - a young manager, an experienced manager, a successful manager.
"He's given me advice and told me he's always at the end of the phone so that has given me a lot of comfort. It's good to know I can turn to the manager if I ever need him."
Ferguson feels Giggs has what it takes to succeed in the managerial ranks although he is not favourite to take over from Moyes on a permanent basis going into his weekend debut.
"I think that he [Giggs] is the one man they should go to really," Ferguson said at a charity dinner, according to the Daily Telegraph.
"He's got 20-odd years of experience at Manchester United. I signed him as a kid at 13 years of age. He's gone through the gamut of emotions at the club - he's experienced all the highs and lows.
"He knows exactly what's needed to be a Manchester United player and I was so pleased he brought Paul Scholes back in, and Nicky Butt of course - two great professionals.
"They understand the club, they are hard workers, they are straight as a die. So you have got the right combinations there, there's no doubt about that."
Giggs spoke with the media on Friday for the first time since he was appointed, and he said: "I'd just like to say how proud I am to be managing for the remaining four games the club I've supported all my life and been associated with for 26 years.
"I've got to say this is the proudest moment of my life. The club has been the biggest part of my life since I was 14.
"I'm proud, happy, a little bit nervous, but just like I am as a player, I can't wait for the game on Saturday.
"The players have looked really good in training this week, they are all excited as well. Everyone's looking sharp and I've just said to them 'enjoy yourself, give the fans something to smile about in these four games'.
"It's been a frustrating season and we want to end the season on a high. It was a shock to me on Tuesday when I spoke to Ed (Woodward) and he informed me David was leaving and then asked me to take over - it's been a whirlwind week for me.
"It's been different, it's been chaotic. I'm just getting a little taste, it's my fourth day in the job and you can never imagine what you have to do, what it entails becoming a United manager.
"I'd like to put on record my thanks to David for giving me my first chance in coaching. It's something I will always remember when he rang me in the summer and asked me to come on board."
Watch Ryan Giggs make his managerial debut on Saturday night when Manchester United face Norwich live on Sky Sports 1 HD. The programme starts at 5pm.