Premier League: Roy Keane rules out a return to Manchester United
Roy Keane has played down speculation he could return to Manchester United as Louis van Gaal's number two.
Last Updated: 28/04/14 4:14pm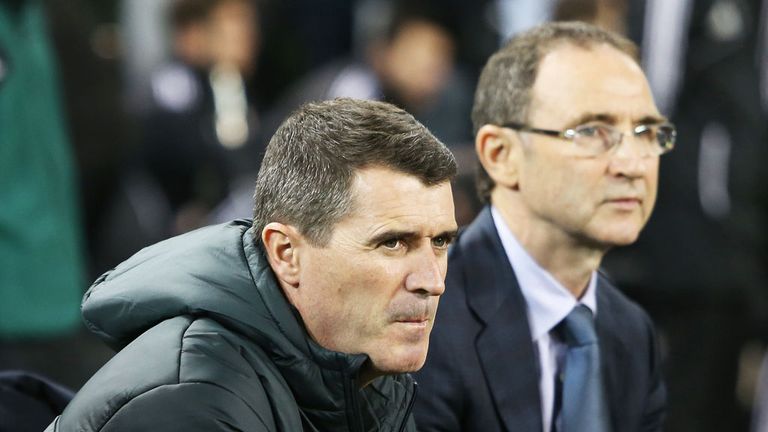 Louis van Gaal is the bookmakers' favourite to succeed the departed David Moyes at Old Trafford, and former United skipper Keane has been linked with a key role on his staff.
However, the 42-year-old, who is currently working as assistant to Republic of Ireland manager Martin O'Neill, has moved to dampen the rumours.
"People keep asking me, ironically, about other jobs. I have got a job and I am very happy in my job," Keane told Irish radio station Today FM.
Keane left United in 2005 after falling out with Sir Alex Ferguson and admits he is unlikely to speak to his former manager again.
"No, I am not sure. Probably not. But look, I have said that about other people," added Keane.
"Football is a funny old game and you get clashes of personality sometimes, but it's something that's not on my mind at the moment, to be honest with you, whether it be good or bad."
Keane admitted he harbours hopes of a return to management one day, although he insisted that is not currently his main focus.
"In my quiet moments, I obviously want to go back into being a manager myself."
Asked if his dream was for that to be at Old Trafford, he said: "No, I don't think that way.
"I was at a match on Friday night, I was at a match on Saturday and I am up in the stand thinking, 'I would love to have a team'.
"And then I'll get back in my car and I spoke to Martin, I think it was on Saturday night, and then I am thinking obviously I am delighted to be working with Martin and [goalkeeping coach] Seamus [McDonagh] and the other staff, so you have to be careful what you wish for.
"I am just really appreciating the opportunity I have at the moment. What happens further down the road..."