Premier League: Manchester United's Nemanja Vidic to say goodbye to Old Trafford
Nemanja Vidic will wave goodbye to Old Trafford on Tuesday night as Manchester United take on Hull City.
Last Updated: 07/05/14 12:30pm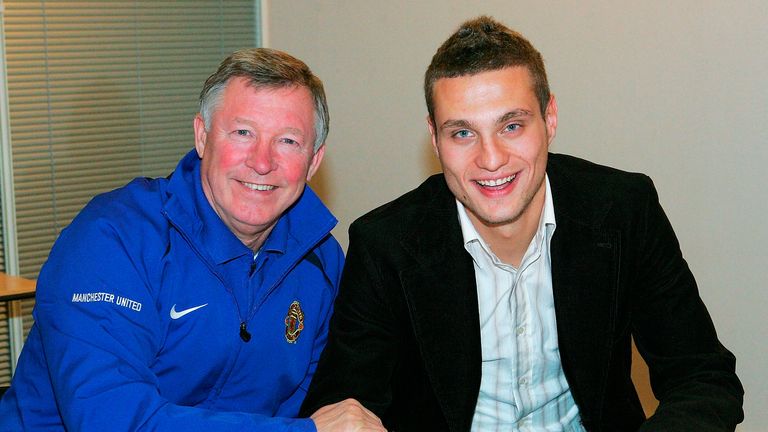 Vidic has spent the last eight and a half years at United, having joined from Spartak Moscow in a £7million deal on Christmas Day, 2005.
He will leave in the summer for Inter Milan having won five Premier League titles and the Champions League in 2008.
"I have no regrets," he said. "I've given this club 100 per cent and my time at this club will always rank as the best part of my career.
"It has been a great eight years - or a great seven years because at the moment we are not doing so well!
"I never considered staying in England as the only club I ever wanted to play for in this country is United and I have been lucky enough to be part of this club for so many years. I've got so many great memories. I never could have imagined winning 15 trophies, including five Premier League titles and the Champions League.
"I've played for the greatest manager [Sir Alex Ferguson] and I have learned a lot, not just on the pitch but off the pitch as well.
"Manchester United make you feel part of the family. It has been a great experience for me.
"I have developed as a man at this club.
"Manchester United make you feel part of the family. It has been a great experience for me and my family."
Vidic will make his 299th appearance in all competitions as United face Hull and, injury permitting, he will round it off by making his 300th in their final game of the season at Southampton on Sunday.
It would have been many more but Vidic missed the second half of the 2011-12 season after rupturing knee ligaments in a Champions League game in Basel and three months of the following season with another knee problem.
He has no hesitation abut naming his favourite memory.
"The Champions League final in 2008 [when United beat Chelsea on penalties],|" said Vidic. "You don't win the Champions League every year. The club has only won it three times and I was lucky to be part of one of those teams.
"And we won it Moscow, where I played for Spartak for 18 months. I came back to the stadium to lift the trophy and that's the greatest memory I have. I will certainly never forget that fantastic night, memories that will live with me and the fans forever."
The Serbian has arguably not been the same player since rupturing cruciate ligaments during United's Champions League defeat by Basel in December 2011, but he remains a firm favourite with the fans and coaching staff at Old Trafford.
Left-back Patrice Evra joined United in the same transfer window as Vidic and the duo played for many years together in an experienced back-four, the foundation of Sir Alex Ferguson's all-conquering team.
Evra said: "When you see a player like Nemanja Vidic is leaving this club you feel really sad.
"I call him the rock. I am lucky to have played alongside him, for me he was a great centre-back."
Evra, who could potentially join Vidic at Inter this summer, still regards the 32-year-old as one of the best centre-backs in the game.
But it has not all been plain sailing for Vidic, according to Evra.
"I remember our first game when we were in the reserves," the Frenchman said.
"It was so hard and we were so poor. (Reserve team coach) Rene (Meulensteen) was the manager and he substituted us both.
"We were talking together in the dressing room after and saying: 'Oh my God, why have we come to Manchester United?! We should go quickly back to our clubs!'. It was a difficult moment, but we stuck together.
"We've trained together and we've won the same trophies so losing Vida is painful."