Nemanja Vidic says Manchester United players lost belief in the team as players argued during season
Departing Manchester United captain Nemanja Vidic admits "everyone lost belief in the team" this season.
Last Updated: 14/05/14 5:54pm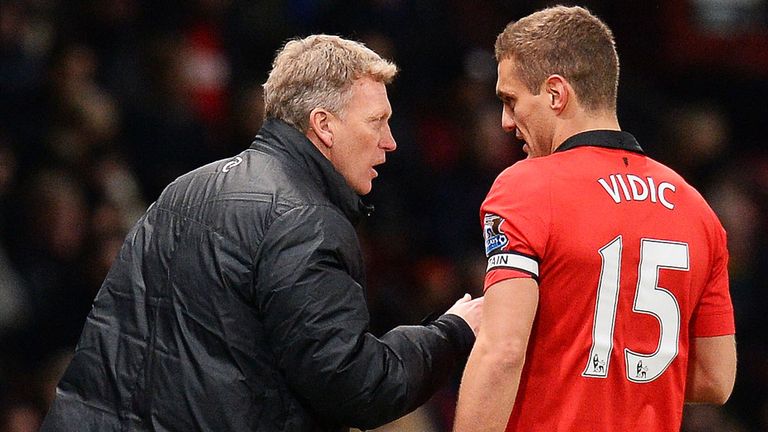 Vidic, who is joining Inter Milan this summer, insists former manager David Moyes - sacked before the season ended after less than a year in charge - was not solely to blame, and he revealed the players argued amongst themselves more than any other year in his career at Old Trafford.
Moyes succeeded Sir Alex Ferguson as manager last summer on a six-year contract but was sacked last month, United eventually finishing 22 points behind table-topping Manchester City and failing to qualify for Europe.
It was not the way Vidic wanted to end his otherwise glittering, trophy-filled eight-and-a-half-year career at the club.
But he says that whoever had succeeded Sir Alex Ferguson would have had a difficult job imposing their will on the squad.
"There was a transition," he told the Telegraph. "You get someone who sees football in a different way and he will want to put his stamp on the team and the way he wants to pay.
"Ryan Giggs shares the same ideas as Sir Alex Ferguson and has a more similar approach to the one we had with Sir Alex. The players are more than used to it and felt more comfortable with it.
"I am not saying that the David Moyes way was bad but these players feel more comfortable playing a certain way of football. You have to respect where you are and what you represent though, and there is no point speaking about someone who was here, who everyone knows lost his job because he did not succeed in doing what he wanted to achieve.
"The best answer I can say is that he tried really hard, he was professional. He was really committed to the job and desperately wanted to do well. But unfortunately, it didn't happen and we are all sad."
Vidic insisted there was no attempt to undermine Moyes - they did what they were told - but admitted there were serious arguments between the players.
"Sometimes you have bad times and you question yourself, of course, but we never did question the manager. We questioned ourselves more," he said.
"It has been hard. We thought it might be difficult to win the title this year but we still thought we would challenge for the trophies. We ended up losing the chance to win the title very early though, and then we lost the chance to win the cups as well.
"We are used to fighting until the last day of the season for the title. That has happened for the last seven years and this year was the first year we have not done that, so it is hard to cope.
"We argued amongst ourselves. This year more than any other, because when you have bad times people show they care. We were arguing to get better. We wanted to improve.
"If you didn't argue it wouldn't be right. We had some hard moments in the dressing room between ourselves."