Louis van Gaal to shine at Manchester United, says Ajax youth coach Ronald De Boer
New manager Louis van Gaal has all the skills to reignite Manchester United, says Ajax youth coach Ronald De Boer.
Last Updated: 19/05/14 9:49pm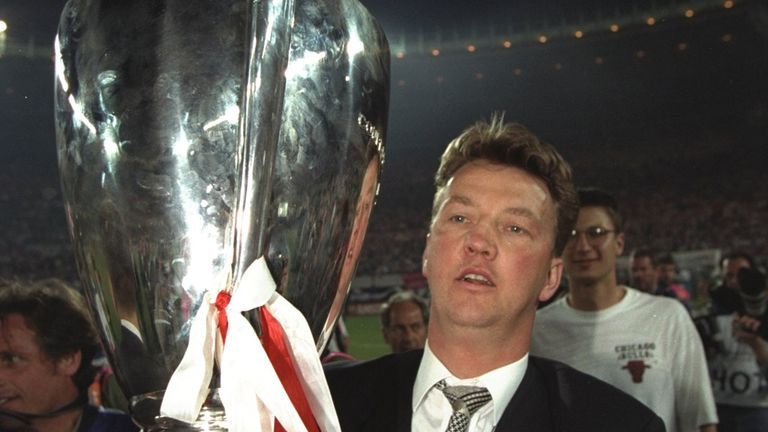 The 62-year-old Van Gaal secured a three-year deal to succeed David Moyes on Monday and is desperate to impress at Old Trafford having won titles with Ajax, Barcelona, Bayern Munich and AZ Alkmaar.
Van Gaal said: "This club has big ambitions. I too have big ambitions. Together I'm sure we will make history."
The Dutchman will pick up the reins after leading the Netherlands at this summer's World Cup in Brazil and De Boer told Sky Sports News: "It's always difficult to predict but I rate his qualities so highly that there's a big chance he'll be successful.
"United have to turn it around 360 degrees but if there's a man who can do it I would say Van Gaal is the man."
After weeks of speculation, the club finally announced Van Gaal would be at the helm, assisted by United legend Ryan Giggs with coaches Frans Hoek and Marcel Bout also in the new set-up.
De Boer, who played under Van Gaal at Ajax and Barcelona, added: "United is already a great club but he's very organised, he plans always from the start and he will have a game plan. That's very important and clear for everybody.
"He's a winner. Any manager wants to win but he gives 100 per cent and expects that from his players. When he wins he's happy and when he loses he's angry but he wants to get on.
"He's a great character and will be very interesting for the English media!"
With a reputation for being uncompromising with some journalists, De Boer said: "He would attack sometimes and put his full force into a questioner but he's eased down! He's a passionate man though and he can react strongly.
"He's a workaholic and analyses all the games and looks at the strengths and weaknesses of his opponents. He's also not afraid to put youngsters in. He wants young players to have a chance and that's great for English football."
With Moyes heavily criticised for being too negative with team tactics, De Boer was confident there would not be anything conservative about the new boss.
He said: "He will also encourage technical skills, quick feet and say 'let the ball do the work'. The players will play like a team but still with attractive football and press forward quickly and let the ball go quickly feet to feet."