Manchester United's Darren Fletcher encourages younger players to go out on loan
Manchester United's Darren Fletcher is advising the club's youngsters to seek loan deals away from the club.
Last Updated: 20/05/14 4:04pm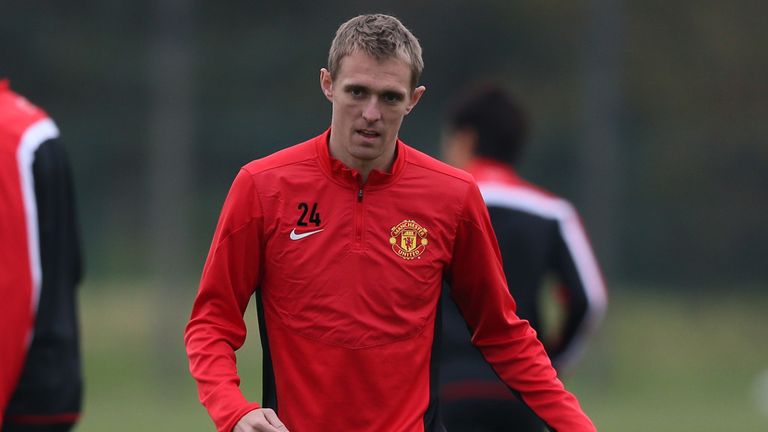 The 30-year-old central midfielder believes the benefits of temporarily leaving the club to play competitive football outweighs what they would gain from playing Under-21 Premier League football.
United sent 18 players out on loan this season, including Wilfried Zaha, Jesse Lingard and Nick Powell.
Will Keane is due to play at Wembley on Saturday as Queens Park Rangers prepare for the Championship play-off final, whilst Tom Lawrence made his first-team debut against Hull after successful spells with Carlisle and York.
Fletcher said: "It's about going out to compete against men in matches that means something, whether that's staying in the league, play-off places or even the other players have got contracts to fight for by staying in the league.
"That side of things is important. They will see a lot of things in the dressing room, like arguments, which will make them into men.
"They need that so, when they come back, they walk differently, and are more comfortable around the first-team players.
"Hence, they're more comfortable when they train with the first-team."
Fletcher never went out on loan himself, instead he broke into the United first-team in 2002 after being part of a successful reserve side that won the Manchester Senior Cup in 2000.
He believes the change to the Under-21 Premier League will not benefit the up-and-coming players as much, though, and that is why he is encouraging them to seek loan deals.
He said: "It sets you up for playing against men. All due respect to the Under-21s but it's just a step up from the youth team really.
"It's not like back in the day when you played against men and older players."