Premier League: I'm ready to be Manchester United captain, says Wayne Rooney
Wayne Rooney wants to be Manchester United skipper, but says he wouldn't have a problem if Robin van Persie got the nod.
Last Updated: 23/05/14 2:37pm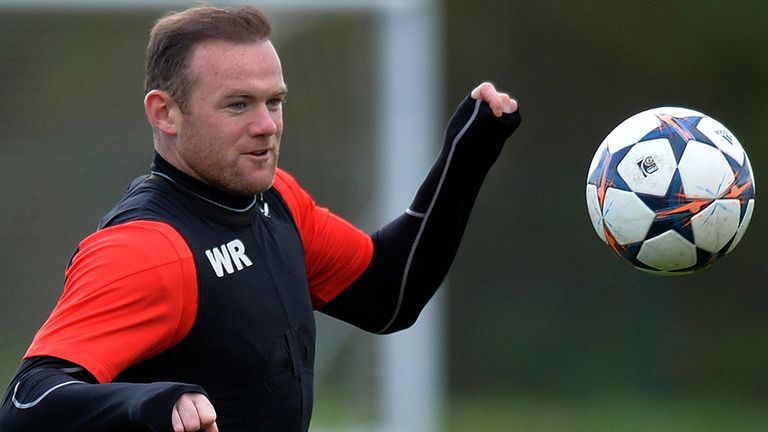 One of the biggest tasks for the recently-appointed Louis van Gaal when he takes over at Old Trafford after the World Cup is to appoint a new captain.
Nemanja Vidic, who was skipper since 2010, left the club to join Inter Milan at the end of last season while his vice-captain Patrice Evra also looks set to depart when his contract expires.
Many United fans want Rooney, who has been at the club for 10 years, to succeed Vidic, and the 28-year-old says he would be honoured to take on the role.
"I am interested in the captaincy," Rooney said. "I've captained United a few times and to get it on a full-time basis would be great."
Had David Moyes still been in charge, Rooney would have almost certainly taken over the armband.
But Van Gaal made Van Persie Holland captain last year and he recently described the former Arsenal striker as a "fantastic" leader.
Van Persie may have been in Manchester for just two years, but Rooney would not hold anything against Van Gaal should he appoint his compatriot over the England striker.
"I feel I am ready for (the captaincy), but it's the manager's decision," Rooney added.
"If he chooses someone else, then honestly I've got no problems with that. I will respect his decision. Robin is captain of his country, he has captained Arsenal and if Robin gets the nod to be captain, then I'm sure he'll do a great job."
Injury restricted Rooney's first-team opportunities last season, but when he did turn out, he was one of the few players to impress during an awful season which saw the club finish seventh in the Premier League.
The former Everton forward scored 19 goals, but he concedes his place in the team will come under threat unless he impresses the new boss, who has a transfer kitty of over £150million.
"When a new manager comes in, you always feel you have to prove yourself over again," Rooney added. "You don't know what ideas he has got or how he wants to play. I have not met him yet.
"So when we've finished the World Cup and when we go back into training, it will be like a new start and you've got to prove yourself again to make sure the manager picks you."
Rooney is pleased with Van Gaal's appointment, and the Dutchman's decision to name Ryan Giggs as his assistant.
"I think it is a great appointment," Rooney said at England's World Cup training camp in the Algarve.
"I think everybody knew for the last few weeks that Louis van Gaal was going to take over and the record he has got around European football is fantastic. He has won a lot of major trophies and it is great that it is sorted out now.
"It is obviously great that Ryan has stayed with him as his number two. It is exciting and it is going to be an exciting time at the club."