Malcolm Glazer needs credit for Manchester United's success, says finance expert
Financial analyst David Buik says Malcolm Glazer should take some credit for Manchester United's recent success.
Last Updated: 29/05/14 1:42pm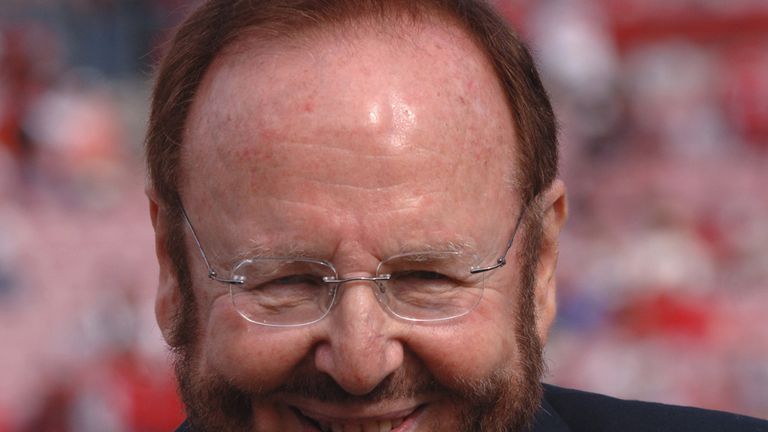 The 85-year-old, who died on Wednesday after a long illness, was at the centre of a controversial £790m deal to buy the club in 2005.
Since then, United have won five Premier League titles, three League Cups and a Champions League, feats they have achieved despite the increased spending power at Manchester City and the ongoing investment at Chelsea.
Buik believes Glazer, who has reportedly never visited Old Trafford, should take some credit for the role he has played during that period.
"However unpopular he may have been, and the fans weren't particularly enamoured of him, but he has a great share in the team's success," he told Sky Sports News.
"He stumped up the money that was required to make that quantum leap forward, and that, no matter whether you agree with how the club was run or not, can never be taken away from him."
The Glazers' takeover of the club was unpopular with the vast majority of United supporters, some of whom formed a phoenix club, FC United of Manchester, who currently play in the Northern Premier League.
Buik does not believe the passing of Malcolm Glazer will affect the running of the club, especially as his sons Joel and Avram have been acting as co-chairmen over the past nine years, but that the pressure to maintain revenues will continue.
"It won't affect the day-to-day running of the club at all," he said. "It's in better shape now than at the time of the purchase. It was £700m in debt then and now it's £385m.
"The business interests of the sons in Tampa are considerable and also have debts so it is utterly important that Manchester United generates income.
"They removed David Moyes because he wasn't delivering and the club were going to be £50m light in terms of their income.
"There is no emotion in my humble opinion. The Glazer brothers love their sport but this is a business."
Buik also feels there is no chance of the Glazers being bought out, but that they must ensure the club does not take any more drops in revenue such as the loss of around £50m they will face as a result of their failure to qualify for the Champions League.
"Indirectly, the banks actually own Manchester United because if these debts are not serviced then there will be recourse," he said.
"I'm not suggesting there are problems because everything seems okay but you wouldn't want income to drop any further."