Premier League: Darren Fletcher excited by fresh start at Manchester United
By Fred Nathan
Last Updated: 11/07/14 11:42am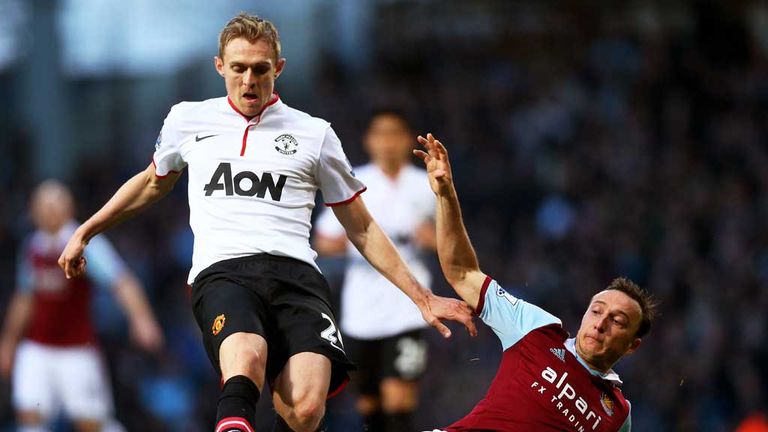 Manchester United midfielder Darren Fletcher has more than one reason to be excited about making a fresh start next season.
As United prepare to welcome incoming manager Louis van Gaal, who arrives after a World Cup semi-final run with the Netherlands, there is a palpable air of excitement around Old Trafford.
Yet for 30-year-old Fletcher, there is added incentive to press for a regular place after three years of struggle with the debilitating bowel condition ulcerative colitis.
"You'll hear players talk about how important pre-season is and I have not had a pre-season now for about three years," Fletcher said.
"I am dead excited about it because it almost puts you back to a level playing field with everyone, and you can start the season at the same time as everyone else rather than playing catch-up all season, which can be difficult.
"It is the perfect scenario for me, so I am really looking forward to trying to build my fitness base as best I can. We are all in the same position; we have to impress the new manager.
"The sooner the games come around, the better. Every opportunity you get you have got to show you are good enough and capable of being in his plans for the rest of the season.
"It is a fresh start - go and impress him as soon as possible and get your name in the team and in the squad for the next season. I think it is going to be exciting times again."
After a dismal 2013-14 season by their high standards, United are looking for a lift under Van Gaal after a dismal last season in which they slumped to seventh in the Premier League and failed to qualify for Europe.
Van Gaal is due to arrive in Manchester next week and will travel with the squad for their pre-season tour of the United States next Friday.
Assistant manager Ryan Giggs, who has taken training in the absence of Van Gaal, met with the Dutchman when his appointment was announced in May and, having had some further contact in recent weeks, is impressed by his confident approach.
Giggs said: "He won't be afraid of taking over Manchester United.
"He is not scared about the challenge, he is not apprehensive. He can't wait and he has got the experience.
"Everyone is excited. We had a disappointing season last year but everyone is keen to get us back where we belong, which is at the top."
Giggs and Fletcher were speaking at a press conference at which United announced they would complete their pre-season programme with a home friendly against Valencia on August 12, which will also be Van Gaal's first game in charge at Old Trafford.