Mancester United land in Los Angeles for start of pre-season USA tour
Last Updated: 19/07/14 11:07am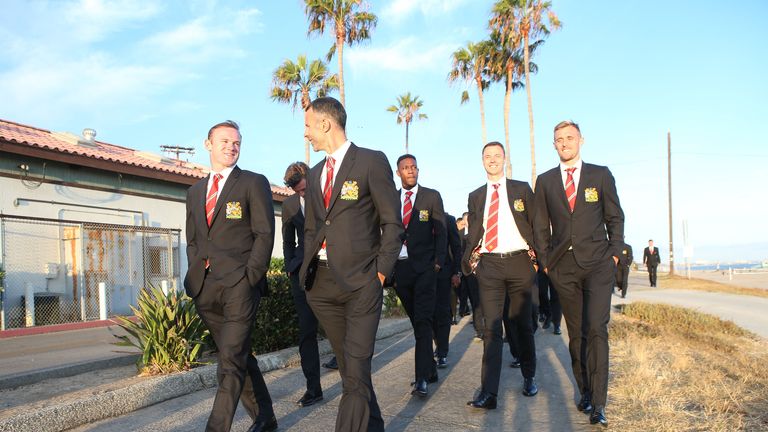 New Manchester United boss Louis van Gaal and his players have arrived in Los Angeles for their pre-season tour of the USA.
The 25-man squad landed in the United States on Saturday morning (2am BST) and Van Gaal, two days after being unveiled to the world's media as the new man at the Old Trafford helm, took his boys for a stroll on Santa Monica beach before heading to the Beverly Hills hotel where they will spend the next six nights.
Their first match of the tour will be on Thursday against Los Angeles Galaxy, the former team of ex-United midfielder David Beckham, before facing Ashley Cole's new club Roma, Inter Milan and Real Madrid in the International Champions Cup.
Should they make the final, they will play a fifth match in Miami on August 4. Van Gaal's Old Trafford debut will be a friendly against Valencia on August 12 and four days later, United will kick off their Premier League campaign at home to Swansea.
Spain midfielder Juan Mata wrote on social media: "Heading to #USA on our #mutour! Looking forward to it."
His club and international team-mate and goalkeeper David de Gea added: "Ready to go to EEUU!! #mutour starts now!!"
Van Gaal, fresh from his World Cup exploits with the Netherlands after steering them to the semi-final, insisted in his first press conference that every single one of United's first-team squad will get the chance to prove themselves before he decides whether to bring in new signings.
Will and Michael Keane, Jesse Lingard, Sam Johnstone, Tyler Blackett and Reece James all travelled to the United States, along with new signings Luke Shaw and Ander Herrera. Dutch striker Robin van Persie is being rested while Michael Carrick remained in the UK as he recovers from an ankle injury that will keep him out for around 12 weeks.
The squad returned for pre-season training on 4 July, with assistant Ryan Giggs taking charge, but with Van Gaal now in full control the players will be desperate to show the new boss they are commited to the cause and can help turn around the club's fortunes after last season's miserable efforts under David Moyes.
Having failed to qualify for the Champions League for the first time in 18 years last season, Van Gaal will be under pressure from his employers to impress immediately to appease the fans and sponsors with some critics suggesting the first-team is in need of a complete overhaul.
The 62-year-old former Barcelona and Bayern Munich coach said before flying to the USA: "I know how the players play but I don't know how the players play once I have trained and coached them. The first three, four weeks I want to see what they can do and then maybe I will buy more players.
"I have to see how quick they can pick up my philosophy and then I can answer what our goal is – I haven't worked with most of them yet.  It is very important there is a click between the players and the manager."
With rumours of Van Gaal being interested in recruiting new players in all positions gathering momentum, one man desperate to shine in the build-up to the new season is Brazilian defender Rafael.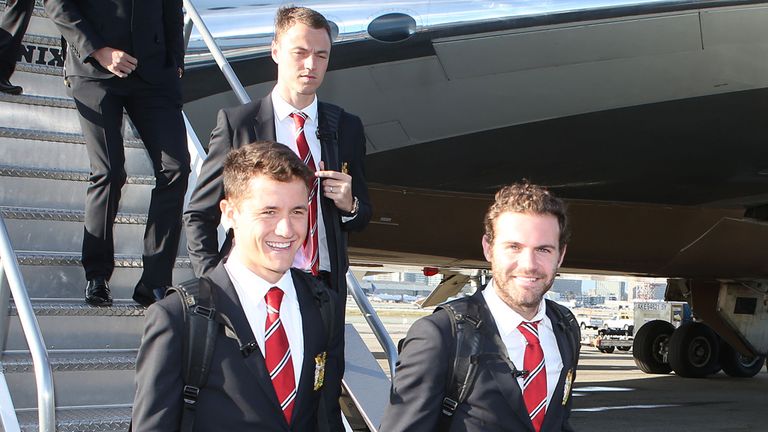 He told the club's website: "Everyone's excited to see how he'll be both during games and away from it. It's clear from watching the boss in the World Cup that he likes to play with intelligent players.
"These types of players can change games and often shift from one formation to another. He seems very good at doing that. Some of his staff have been here from quite early on, so we have an idea of his methods, but we are all looking forward to finding out more from him."
Herrera, the 24-year-old midfielder signed from Atletico Bilbao, added: "The tour will be a new experience for me. It will be my first time outside Europe. All the people have told me there are a lot of United fans in America and I can't wait to play in front of them.
"I am very happy and really enjoying being at the club and in the city. The first couple of weeks here have been great.
"Training has been good, similar to at Bilbao in that we train a lot with the ball. The coaches want us to have the ball and keep possession, which is great for the players."