Transfer News: Manchester United may need two more defenders, according to Lee Sharpe
Last Updated: 26/07/14 4:25pm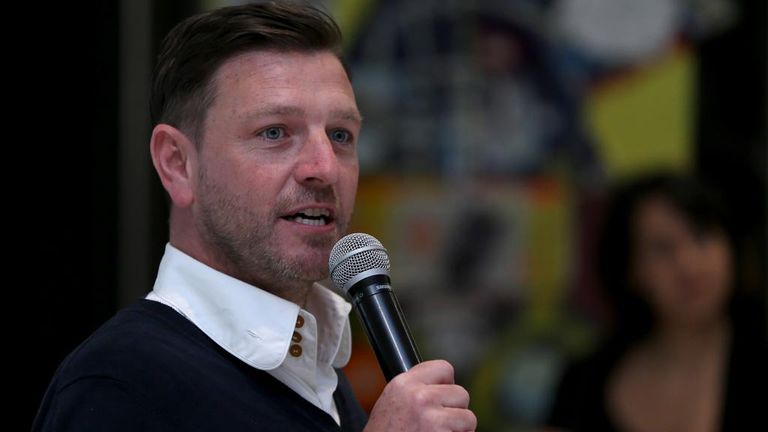 Ex-Manchester United winger Lee Sharpe believes his old club may need to add another couple of central defenders to their squad ahead of the new season.
The former midfielder says new boss Louis van Gaal will prosper in the job but thinks there will need to be a few more new faces at the club if the Dutchman decides to continue with the formation he used for their opening pre-season friendly on Wednesday.
Van Gaal employed a 3-5-2 system in his first match in charge which yielded a 7-0 victory over LA Galaxy at the Rose Bowl in Pasadena.
And Sharpe told Sky Sports News: "It was very much a Dutch style of football. It can be very offensive but also safe if they need to be defensive.
"But to play that formation there will be a few changes over the summer – and most probably defensively.
"If he's going to play three centre-halves, then we may need another centre-half or two.
"(Chris) Smalling, (Jonny) Evans, (Phil) Jones are all good players but they probably need a leader or captain in there to shepherd them.
"And there will probably be another midfielder too coming in."
As for the striking options, Sharpe added: "They have a few too many number 10s – (Juan) Mata, (Wayne) Rooney, (Shinji) Kagawa – and (Adnan) Januzaj can also play there. But he'll have a look and sort it out.
"He won't suffer fools, he'll bring in new ideas, be a disciplinarian, he'll have strong views and won't be easily swayed from those."
Sharpe also feels that not being in the Champions League this season could be beneficial for the Red Devils, saying: "Being out of Europe and not having hangovers when you can struggle the weekend after having European away games – they certainly don't have that problem.
"So they can keep themselves fit and be properly rested. That'll be an advantage not having those midweek games."
Sharpe, now 43, enjoyed an eight-year stint at Old Trafford during which he collected three Premier League medals, participated in two victorious Wembley finals and played all 90 minutes of their 2-1 triumph over Barcelona in the final of the 1991 European Cup Winners' Cup
.