Danny Higginbotham backs Manchester United's Luke Shaw to overcome fitness issues
Last Updated: 31/07/14 3:31pm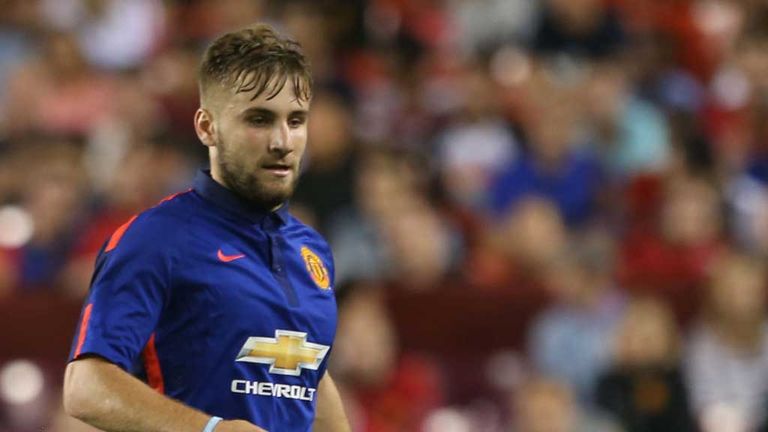 Former Stoke City and Manchester United defender Danny Higginbotham is backing Luke Shaw to overcome his recent fitness issues.
Shaw was forced to train on his own earlier in the week after United manager Louis van Gaal deemed the teenager's fitness was not at the level he requires.
Luke looked fit and energetic and with the age that he is he'll get up to speed in no time.
Danny Higginbotham
The left-back acknowledged the criticism and embarked on a private training regime before making a surprise appearence in United's latest pre-season friendly against Inter Milan in Washington on Tuesday.
Higginbotham told Sky Sports: "He has said that he is not fit enough and maybe you can get away with that at left back but at left wing back you won't, and he appreciates that. You've got to get forward and you've got to get back.
Fantastic
"He come out and said that he's done extra running because he didn't think he would be involved. The next thing he finds himself being involved and for me in the 45 minutes I thought he was fantastic.
"He looked fit and energetic and with the age that he is he'll get up to speed in no time. I don't think he will have an issue whatsoever. I think he came on and played 45, he looked good and I'm sure he'll be doing some more extra work."
Higginbotham highlighted that a lack of fitness during pre season is commonplace and something experienced by a number of players throughout the league.
"He's planning to be fighting fit for the start of the season but I think it's like anything when you start the season. I don't think, personally, that you are match fit anyway, it takes four or five games to get up to pace for all the Premier League teams to get up to pace and then you are on your way."
Great players can adapt to anything.
Danny Higginbotham
Optimistic
Higginbotham, who finished his playing career with Altrincham last season, is optimistic about the new era at United and is confident the team will be able to adapt to the variety of styles used by Van Gaal.
He added: "Great players can adapt to anything. Great players will play with other great players and bring the best out and get connections straight away.
"Going from the formation they played last season to what they are playing now, yes people would say it's radically different but I think that it is actually more suited to the players they've got here and it brings the best out in the players.
"What you'll find is players that might not have shone last season at certain times now look unbelievable."