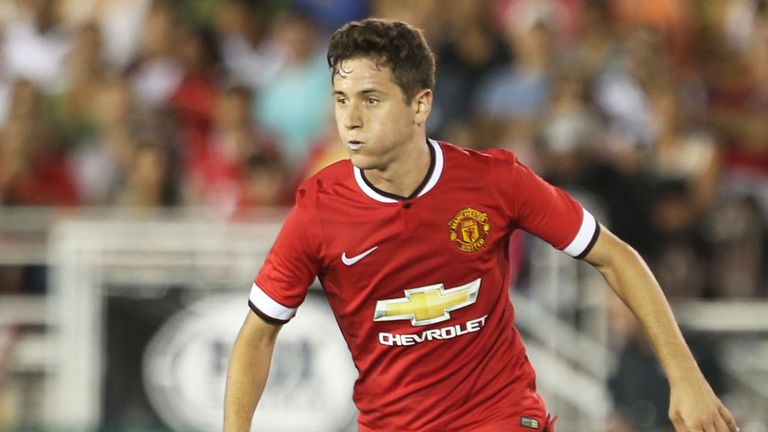 Manchester United midfielder Ander Herrera could not be happier with the first few weeks at his new club.
Despite the start of the Premier League season being more than two weeks away Herrera has already made a big impact at the club, with United fans warming to the midfielder from the off.
The Spaniard is one of seven players to have started every match on United's pre-season tour of the United States and had a hand in six of the seven goals scored in Louis van Gaal's first match in charge against LA Galaxy. 
I feel it has gone well for me so far. I feel physically good and mentally I'm improving all the time.
Ander Herrera
Speaking after Tuesday's penalty-shootout victory over Inter Milan Herrera said: "I feel it has gone well for me so far. I feel physically good and mentally I'm improving all the time.
"I'm happy with how I'm doing on the pitch and all the players are helping me in terms of integrating. My confidence is increasing with every game and I'm excited for the season ahead."
Midfield proved to be a problem area for United last season under the tutelage of Van Gaal's predecessor David Moyes, with Tom Cleverley, Michael Carrick and Marouane Fellaini suffering from indifferent form.
The man who played a key role United's midfield for over a decade, Paul Scholes, believes the main area the team needs strengthening is at the back though, following the departures of Nemanja Vidic, Rio Ferdinand and Patrice Evra to Inter Milan, QPR and Juventus respectively.
"He's only got three recognised defenders," said Scholes, speaking in his role as an ambassador for Men United v Prostate Cancer.
"Michael Keane and Tyler Blackett are coming through but as far as experience goes he's missing a big chunk after losing Rio, Vidic and Evra.
"Phil Jones, Chris Smalling and Jonny Evans are all good defenders but they do have their own injury problems. Hopefully they can get over them and have a full season. I'm sure they'll do well, but I think he'll look to bring a couple of defenders in."