Real Madrid's Cristiano Ronaldo misses Manchester United tie in Michigan
Last Updated: 01/08/14 10:46pm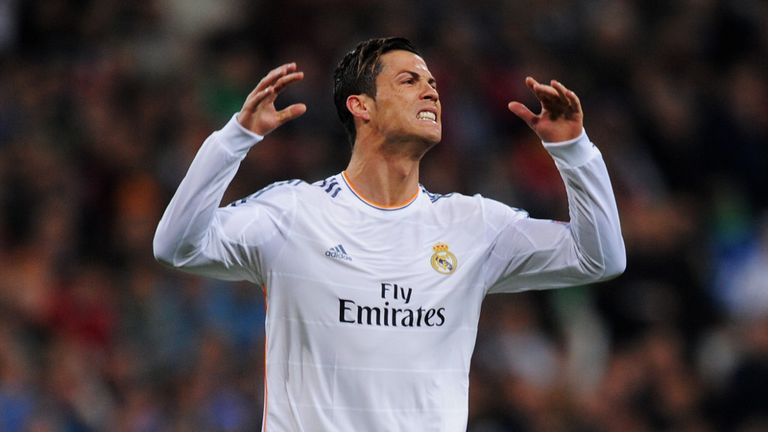 Real Madrid star Cristiano Ronaldo will miss out on a reunion with former club Manchester United after being ruled out their clash in Michigan.
United will play the Spanish giants on the outskirts of Detroit, where a record 109,000 crowd is expected at Michigan Stadium, more commonly known as the 'Big House' as it is the third-biggest sports arena in the world.
Having already beaten Inter Milan and AS Roma, a victory for Louis van Gaal's team will guarantee them a place in the International Champions Cup final.
Speaking on Friday evening, Real Madrid coach Carlo Ancelotti confirmed that Ronaldo would not feature, wanting to keep him fit for the European Super Cup clash against Sevilla in Cardiff on August 12.
"Ronaldo is working hard but we won't put him out on Saturday," the former Chelsea boss said.
"He will begin training with the squad in Spain after the tour as we plan to use him in the Super Cup."
Van Gaal believes his team have a chance to prove they still belong among the European elite when they face Real Madrid, who won their 10th Champions League trophy last term.
Reflecting on the three wins he has registered so far at the start of his career at United, the Dutchman said: "We played against AS Roma, who were second in the Italian league, then against Inter Milan, who were third in the Italian league.
"Now we play Real Madrid and it is nice to play against such teams, so you can show you are at least equal."
Making Monday's final, and beating potential opponents Liverpool or Manchester City to take home a prize of £600,000 would be a perfect way to round off what has been a successful tour for Van Gaal.
After their exploits in the United States, Van Gaal will take his squad back to Manchester, where they play Valencia at Old Trafford before the season begins on August 16 against Swansea.
Van Gaal has always been a fan of the English game and he is looking forward to experiencing his first taste of Premier League football.
"I have always looked to matches of England," said Van Gaal, who lists Charlton and Nobby Stiles among his favourite United players.
"I like the atmosphere of the English games. To work for the biggest club in England and the world makes it more of a challenge for me."