Premier League: Wayne Rooney ready to set example as Manchester United's new captain
Last Updated: 16/08/14 11:05am
Wayne Rooney feels he has matured enough to lead by example in his new role as Manchester United captain.
New United manager Louis van Gaal appointed Rooney captain earlier this week, reminding the England striker he needs to be a role model for the club's younger players on and off the field.
Rooney has had disciplinary problems in the past but he feels he is up to the task of being a responsible, and successful, captain at Old Trafford.
"It's a massive role to take on - I'm aware of that, the responsibility of it - and I feel I'm ready at this stage in my career to do it," Rooney told United Uncovered.
"I spoke to the manager and he decided that I was right to take the role which I am delighted with. It's a great honour.
"I will perform the role as best I can and hopefully help the team to be successful.
"I've played under some great captains for club and country so I will take a little bit of what they have brought to the role and try to use that.
"Then I'll try to lead the players on the pitch with hard work, dedication, and that's what we really want to do - we want to show the fans that we care and want to win.
More games that matter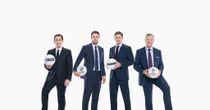 Click here to see Sky Sports' unrivalled schedule of live Premier League fixtures
"I think I'm quite vocal on the pitch and in the dressing room.
"I think the manager has looked at that and seen that I'm always trying to get the best out of myself and my team-mates and to encourage as well. I'm sure that was a big factor in the manager choosing me."
Van Gaal also revealed he does not think Robin van Persie will have a problem being overlooked for the role.
"It was not difficult," Van Gaal said. "I didn't say it to him (Van Persie). He was not there at that moment.
"I told it personally to Wayne, then I had to choose the vice-captain, then I had to say it to my players. This is a different situation to the Dutch national team.
"I think you always have to choose a native captain. I don't think there's any problem."