Transfer News: New signing Marcos Rojo delighted to join Manchester United
Last Updated: 22/08/14 4:46pm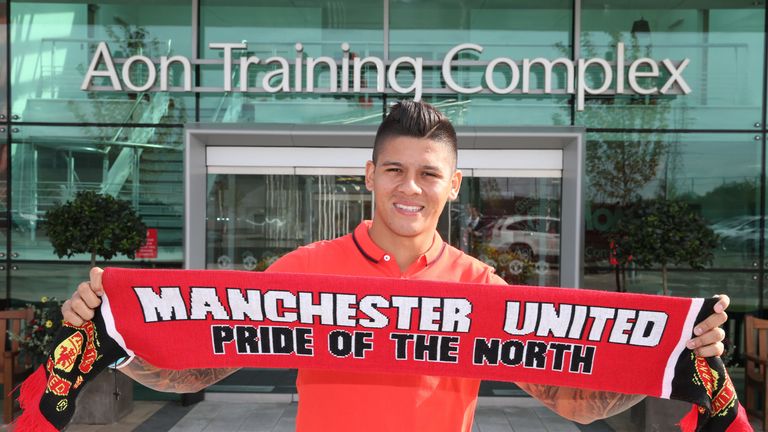 Marcos Rojo has labelled Manchester United the 'biggest club in the world' after his £16m switch from Sporting Lisbon was confirmed.
The 24-year-old Argentina defender impressed new United boss Louis van Gaal at the World Cup this summer and has signed a five-year deal at Old Trafford,
Rojo told a press conference: "I'm very pleased to be here at the biggest club in the world. It's a very great honour and I'm very pleased to bring the best I can to this club.
"It was a little bit hard and a long process. It was complicated but the most important thing is that I'm here now and I'm happy. I'm ready.
"For me it's certainly the most important football league in the world and I've always watched it. One important aspect is there are a lot of young players that come here with a view to improving their game. I hope I can be among them.
"I've received congratulations from all of the (Argentina players at Manchester City) saying welcome to Manchester. I know them outside of football as well so they've been in contact."
Van Gaal said: "I played against him in the World Cup so I had to analyse Argentina. In that video I was already enthusiastic about him.
"My philosophy is you should only buy players who fit in the profile. Marcos fits in the profile as a central defender and as a left wing-back. He played for Argentina as a wing-back but in Sporting Lisbon he played as a central defender.
"He shall fit into our profile and he played a fantastic championship. I'm very pleased.
"He needs a lot of brain, to be aware of the spaces because we are defending spaces. That's the first word I used to him. He has to be a very good header because there are always those long balls.
"I like the way he played in the World Cup, so that's also very important, to be built up. He has to be aggressive in the right moment. When I have to say something about him to criticise, maybe that's it. He has to control himself."
On the shock 2-1 opening day defeat to Swansea at Old Trafford, the Dutchman added: "Two weeks ago I was the king of Manchester. Now I'm the devil of Manchester. It's the football world and especially the media. I think the fans are intelligent and I already said the first three months will be difficult for the players and the fans.
"I have been hired because of my philosophy - not because I'm a very nice person. I am but it's my philosophy they have hired. It's a process that needs time."