Carlo enjoying Blues revival
Carlo Ancelotti has hailed Chelsea for proving the doubters wrong and getting back in the title race.
Last Updated: 06/05/11 3:52pm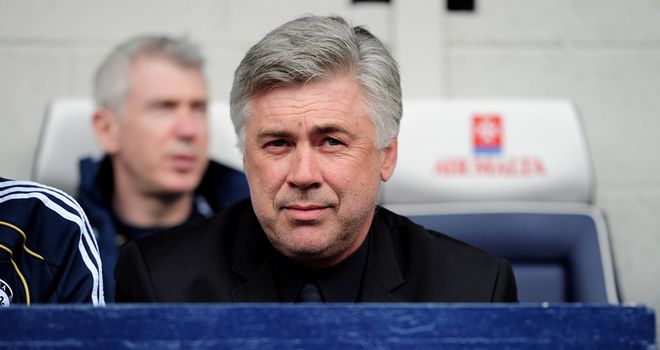 Carlo Ancelotti is delighted Chelsea have been able to prove the doubters wrong and plant themselves firmly back in the Premier League title race.
The Blues have shrugged off their mid-season slump to climb to second in the table, and will leapfrog Manchester United into pole position if they win Sunday's crunch clash at Old Trafford.
Italian boss Ancelotti has hailed his side for pulling off the revival, and says spirits are high in the Blues camp ahead of the United clash.
Fantastic
"For us it is fantastic to think that we can fight for the title," said Ancelotti. "Nobody thought two months ago we were able to do this.
"We did really well in two months and came back to fight for the title.
"It's very exciting for us and we are very happy. There's a good atmosphere.
"In the past when you've been told it's no good, then you get this opportunity, and it's a fantastic opportunity.
"This team is still alive and this means the players have very good character, very good personality and they are very professional."
Ancelotti has been pleased with how Chelsea have picked themselves up after a deflating UEFA Champions League exit at the hands of United last month.
He added: "After the defeat against United it was not easy to move on, to turn. But they had a fantastic reaction."
Title
United boss Sir Alex Ferguson said on Friday he believes the title will go to his side if they beat Chelsea on Sunday, despite having two more games left to play.
But Ancelotti has taken a more cautious approach, insisting he is looking no further ahead than Sunday's clash.
"We have to play very difficult games against Newcastle and against Everton away," he said. "So nothing is decided.
"But it will be important to reach the top of the table. It would be a very good step for us."